I didn't need a haircut, and I definitely wasn't planning on getting a tattoo before the big three-day New Year's water fight celebration in Thailand. We just left our room that night for a minute to get a couple Chang beers so we could drink and play music. Walking back from 711 to our hostel, we heard the sound of guitars and singing from across the street. Looking over, we saw a group of mustachioed locals passing around a bottle of whiskey, smoking cigarettes, and belting out a song in Thai. We were a bit confused because it was already late at night and all the shops were closed, but they were definitely at some type of business. The sign above them read "The Cutler Barber Shop and Tattoo." I knew right then and there that sometime over the next 24 hours my body would be permanently transformed.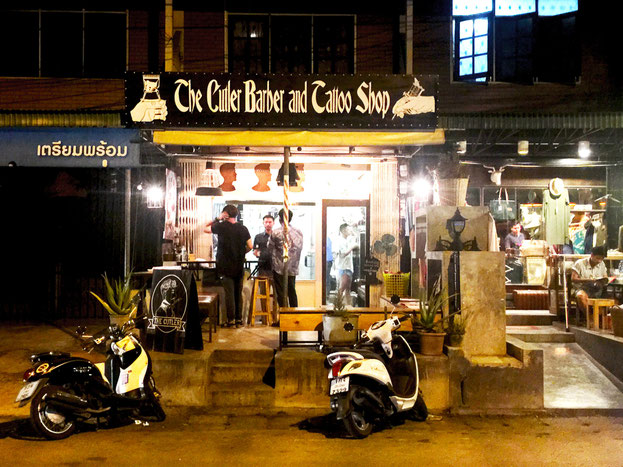 We decided to say hi to them and see what they had going on. The tattoo shop was not like your typical tattoo shop in SE Asia where annoying locals grab drunk tourists by the arm to pull them in to their shops and shove pictures in their faces of horrible tribal or Buddha tattoos permanently scarred on the arms of their past victims. These guys weren't desperate for customers. Instead, we just jammed and shared a few drinks before the subject of getting a tattoo or haircut even came up. 
Walking inside the shop felt like being teleported directly back to the type of places I go to get my hair cut in San Francisco, basically meaning it also felt like traveling back in time to the 1920's. Shops that look like this are pretty popular back home but I never expected anything like this in Thailand. The barber chairs were old school. On the walls were black and white pictures of old boxing matches and men with classic haircuts and tattoos that are now probably long dead. The animal skulls everywhere, the preserved insects in frames, everything looked like it came from the storage shed of someone old enough to have fought in WWI. They even had my hair product that is specially made by a famous barbershop in Belgium. I have no clue how they knew about that stuff. If this place were in San Francisco, you would have to book days in advance and haircuts would easily be $50. The employees there were stylishly dressed in tight pants with their keys strapped to the outside, button up shirts, fresh haircuts, mustaches, and covered in some seriously well done ink. Not what you expect in such a warm country where most of the locals are in shorts and either a tank top or completely shirtless. 
The owner spoke with me in perfect English about how he started the shop. He lived in Australia for six years and noticed a trend of places popping up where men can go to get perfect haircuts and just hang out with a glass of whiskey. He took this idea back to Chiang Mai to open a barbershop of his own. The kicker is that he had no hair cutting experience at all. With full confidence, they learned the tricks of the trade as they went along, and by now can probably give the popular "high and tight" hipster style haircut with their eyes closed. They hired an Australian guy named Charlie that just so happened to be traveling Thailand with his clippers so he could give haircuts to make some side cash. The tattoo shop idea came along because they had a good friend that was an extremely talented tattoo artist. In Thailand, sometimes you see combined 2 in 1 businesses, and this was the greatest one I had seen. I asked the owner if I could get a haircut and a tattoo at the same time and he said "of course!" He had me post my tattoo sketch idea on the Cutler's Facebook wall and I was good to go the next day at 4 pm. 
I decided to go with an outline of the continents on my right wrist. I have always wanted a travel tattoo, and this one seemed most appropriate. I can fill in the places I've been with ink the more I travel, and after all, this design isn't going out of style anytime soon unless there is a major earthquake or something. Marika also decided to get the same design the same size on her left bicep. After knowing her for only about 2 weeks, we decided to permanently scar our bodies together ensuring we would never fade from each other's memories. We joked about our friendship ending in flames and being stuck with a reminder on our arms forever, but decided to take the risk.
The tattoo studio was upstairs above the barbershop. It was dark inside, only illuminated by the single movable tattoo lamp the artist uses to see. On the walls were more old timey pictures, newspapers, skulls, creepy statues, and a painting of a gigantic black beetle. The music playing from the speakers was all 50's and 60's top 40 including hits by Chuck Berry, Elvis, and The Beach Boys. The artist was a short Thai guy with a fedora, mustache, goatee, and covered in tats. He didn't speak a word of English besides "You okay?" to make sure I wasn't in too much pain while he moved the needle around my wrist. In fact, he said all he needed to say when he took my idea of having the continents surrounded by a circle with the bottom tips of South America and Africa going towards my hand and turned it into a bigger tattoo where the continents are stretched horizontally across my wrist with no circle around them. All he did was place the stencil on my wrist and nod "yes" and I agreed to ink it in.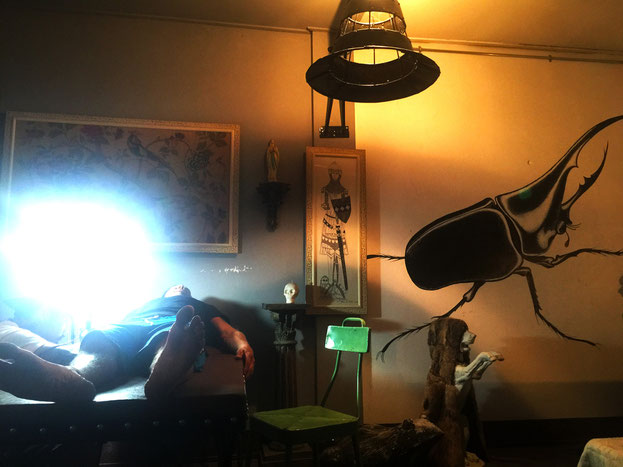 Three Changs, 30 minutes, and 3,000 bot later (that's a steal at only about 85 US dollars at the time!), he was done with the tattoo. The scary part was not having it done in a foreign country by an artist I could not communicate with. The scariest part was that I could not feel the detail being added to the lines. My tattoo is simply an outline of the continents taking up only a few square inches. The lines had to be extremely thin and detailed. It felt like he was just going back and forth making straight lines. I was scared to look at first, but it turned out he knew what he was doing. The end result was a perfect map of the world on my wrist far better than I could have hoped for with an impulsive travel tattoo. I actually have no idea how he was able to make such tiny lines without a magnifying glass. If you look closely at my tattoo, even the tiniest islands in Oceania have space between them where you can actually see my untouched skin. Even a really great artist in America would have trouble doing this. I have a very large tattoo on my left arm, and the small one I got at the Cutler gets way more compliments because of the intricacy of it.
Marika hesitated that day and ended up getting hers inked in the next day. Hers was just as perfect as mine, with Sweden getting a bit more detail instead of an outline at her request. We did not plan this at all before getting the tattoos, put we were able to combine them to create some amazing travel photography: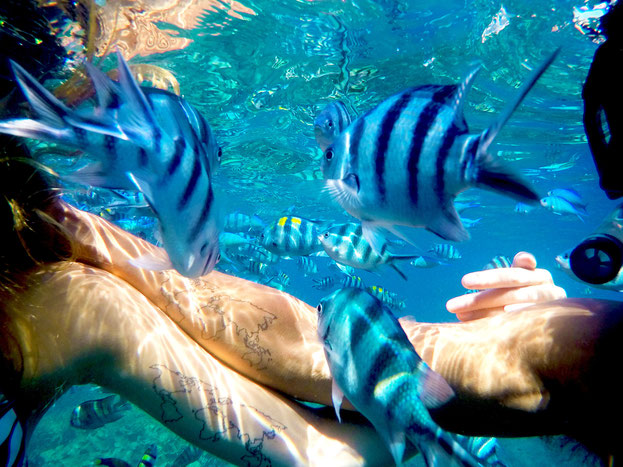 The fish loving our tattoos in the Perhentian Islands, Malaysia
To me, tattoos aren't necessarily about the design. The meaning is important, but what matters most is the memory. We ended up hanging out at the shop for a total of three nights. We went up to Pai and hung out with Charlie at a reggae show a few days later. The owner even invited us to a jazz bar the where he was DJing. I would not have gotten a tattoo there if I felt like it wouldn't be memorable. Instead, not only did I get a tattoo I am extremely happy with, but I also made some friends I'll always remember. The next time I go back to Chiang Mai, I won't be going to everyone's favorite club Zoe In Yellow, I will have my own hangout spot.