It's a bit embarrassing to admit this, but I have lived in California my entire life and I've never visited Yosemite National Park. I am actually much more well travelled outside my own country. This year, I decided to change that with the annual camping trip I take with my friends on Labor Day. For multiple reasons, Yosemite was much more disappointing than I expected, yet still stunningly beautiful. This was definitely one of those trips where the people you travel with make all the difference. 

After a four-hour road trip from San Francisco full of 90's sing-a-longs and deep relationship talks, my roommate and I finally made it to Upper Pines campground in Yosemite Valley. By this time, our friends who made the drive earlier in the day informed us that the park rangers had already warned them to be quiet, stop playing drinking games, and put out the fire at 10 pm or else we would all be kicked out. One year in the making, and this trip was already almost over before I got there. Lesson learned: this is a crowded family camping park, and not meant for 21-30 year olds looking to let loose. 
The next day we took a hike to Vernal Falls. It was about a 2-mile uphill hike from our campsite on a manmade trail covered with possibly plague-infested squirrels. We quickly discovered that Labor Day is one of the busiest times of year, as an endless sea of tourists swarmed behind us and in front of us as we hiked along. The waterfall ended up being a shadow of what it was supposed to be due to the heavy drought hitting California for the past four years. I probably shed more water from my eyes when Michael Jackson died than this waterfall. This has been the driest year yet for Yosemite, and the lack of water is causing much more problems than just ruining some pretty views.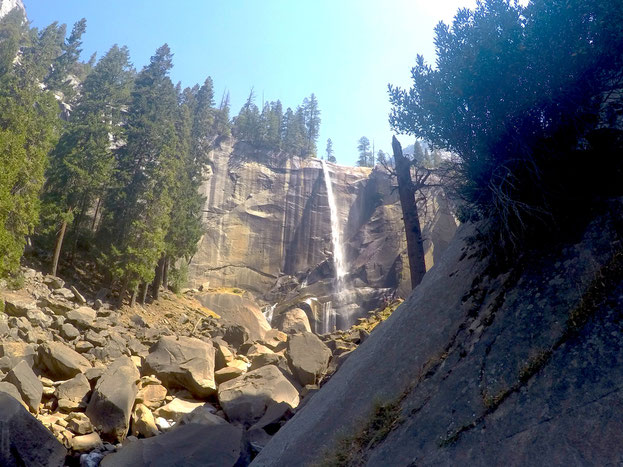 The next day the weather was about 20 degrees cooler, and visibility was extremely poor. It turns out there was a fire in Fresno, and the smoke was making it's way all the way to the valley. Dry seasons make national parks susceptible to wildfires, and experiencing the drought in full effect was quite alarming. This is in my state, my home, and it is very real. Along the drive we saw larges patches of completely dead and rotten trees. This is because the lack of moisture attracts pine bark beetles, which feed on the roots of the trees and ends up killing them. We sat in the car for two hours barely moving because of all the traffic, kept the windows closed so we could breathe, and ended up turning around because there was just nowhere to park and hike. I probably don't need to mention this, but DO NOT visit Yosemite during Labor Day!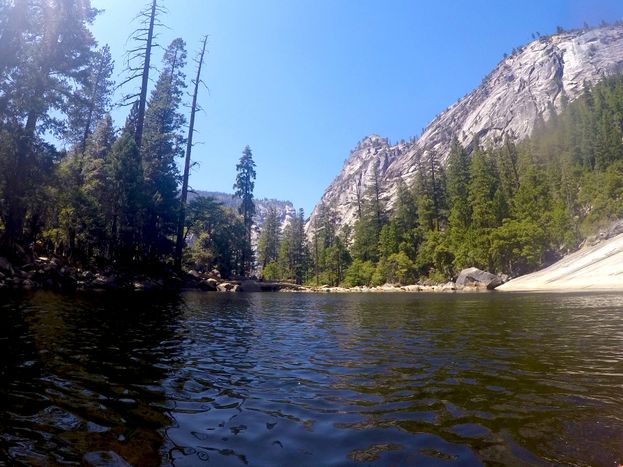 Though it is gorgeous any time of year.

We ended up finding a trail to hike close to our campsite to Mirror Lake. This trial was actually green! But not because flora was thriving, but because it was lined with horse poop that dried into a fine powder. We had to move out of the way as multiple tourists that were too lazy to hike rode by on their gigantic horses. When we got to the lake, you may have guessed it, it was bone dry! A lake that normally reflects Half Dome above it in the water did not contain a single drop of water.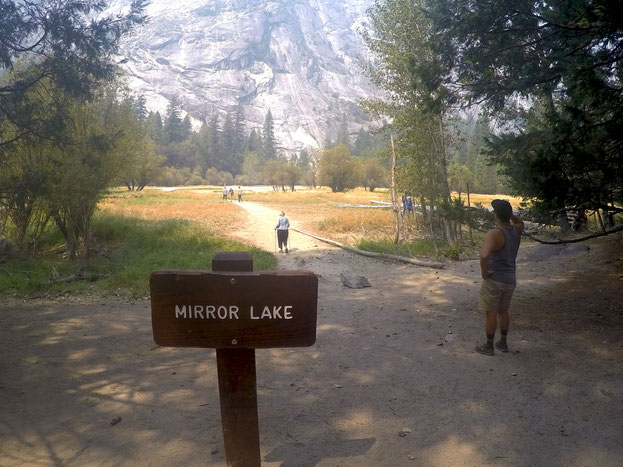 So is the lake behind the big rock orrr...?

We had to ask a park ranger to make sure it was really a lake, because it was so dry we weren't really convinced that there was any water there for years. He told us that the lake is normally full of water this time of year, but the drought has caused it to completely disappear. Instead of swimming and sunbathing, we tossed our Frisbee in the middle of the former lake for a while and hiked on. Tourists would ask us if we found any water anywhere, and we had to constantly disappoint them by telling them no. Some actually turned around and walked back to their campsites. 
Though Yosemite was crowded, smoky, infested with plague, anti-partying, and a little less pretty, we still managed to have fun. We built fires and sang our favorite songs on guitars and hand drums, but the highlight was a chilly lake we found with a steep rock face leading into it. Naturally, we decided to splash water on the rock face and slide down over and over like we were 5 years old. Other tourists starting cheering us on and taking pictures, while some actually started joining us. There is never a dull moment with this camping crew. Enjoy the video below!