I'm not a huge fan of those "Top 5 Things To Do In Whatever Country" articles or travel photos of some bro and a drugged up tiger so he can look cool on Facebook or Tinder. Sure, touristy attractions and pretty pictures are great when traveling, but what I really live for is the unique experience: the story. Stories that no one else can tell but you. Stories so spontaneous they actually seem impossible. Traveling naturally creates these stories because we find ourselves surrounded by a unique culture, different language, and are unbounded by the stresses and pressures of everyday life such as work and endless schedules. We find ourselves fully open to embrace whatever happens to us, even if it would normally make us uncomfortable. This story happened over the course of a couple days, but the random events and connections are a perfect example of what really makes travel great. 
It was our last day in Ho Chi Minh City, Vietnam. We actually had a little touristy thing planned this day but of course nothing goes to plan while traveling. We booked a tour of the Mekong Delta so we could check out the famous floating markets. There were a few different tour options available, and we specifically told the lady from the hostel booking our tour that we did not want to go on the boring old people tour that takes you to the coconut candy factory and bee farm. When we got on the bus at 8am that morning, the tour operator announced that we would not be going to the floating markets, and that the tour only goes to the coconut candy factory and to the bee farm. We were already on the freeway and we were completely stuck. An entire day abroad completely wasted. 
We had to be positive and not see this as a waste. So I did the only thing I could do, buy a couple traditional Vietnamese triangle hats and a bunch of beer. We were going to make this a booze cruise. We proceeded to paddle along the delta cracking our beers and making fun of all the lame tours people actually go on.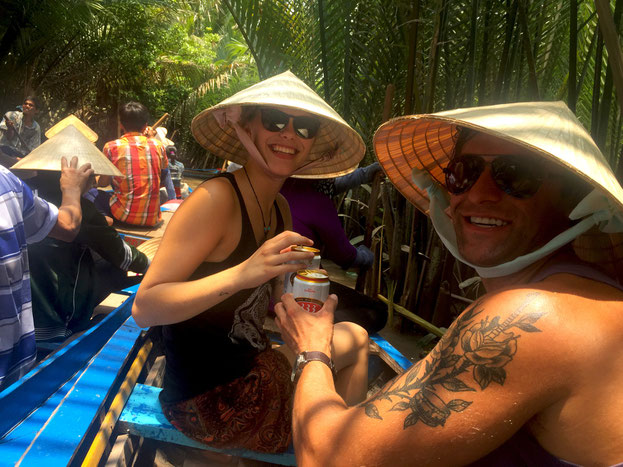 The Mekong Delta turned out to be pretty fun...well, what we could remember of it…And that is where the day was supposed to end. We had dinner and didn't really have any plans after that except exploring the city at night. It turns out that it was the 40th anniversary of the end of the Vietnam War. Now, being American, I didn't really know how to act in Vietnam at first. Vietnam is still split between communism and capitalism, and I was born well after the war ended. The Vietnam War Memorial Museum used somewhat ani-American language in their exhibits, even celebrating Vietnamese citizens that killed many of "the enemy" during the war. But here I was, probably not only the only American, but the only other tourist besides Marika there in the middle of the town square surrounded by thousands of Vietnamese on motorbikes.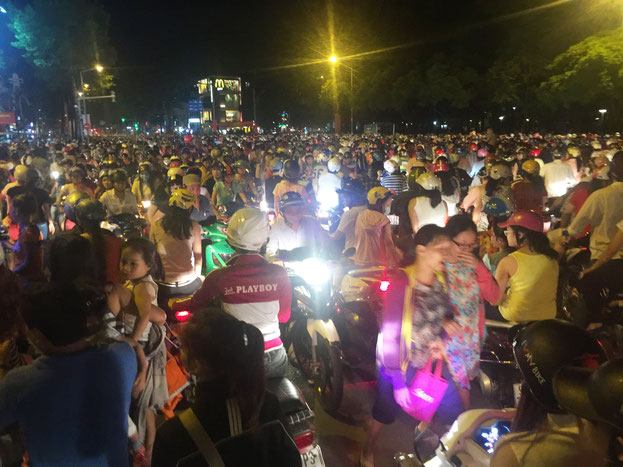 There is a reason Saigon is the motorbike capital of the world. There is an estimated four million motorbikes on the road for a total population of 7 million people. We already had been having fun figuring out how the hell to cross the street. We found the best way was to do it was without hesitation. No one on a motorbike actually wants to hit you, so you just have to confidently go for it without stopping. We are actually kind of convinced we can do it blindfolded now. So we were already familiar with the motorbike mayhem, but on this night, probably everyone in the city had their motorbikes parked in the town center with their entire families on their bikes facing Bitexco Financial Tower, a well lit and often photographed building in Saigon. The locals were all waiting patiently for the fireworks show to begin. The craziest thing to me about this was that there was no organization to this. There were no police officers waving people with lit up sticks telling them where to go. There weren't even any signs. They just showed up and parked.
We ended up somewhere in the middle and we were the only people standing on the ground and not seated on a bike. As the fireworks went off, I liked to think about how fireworks are something everyone of any culture that speaks any language can enjoy. Here I was enjoying fireworks, which was something I thought was totally American, with people we were at war with only 40 years before. No one looked at me like I shouldn't have been there. We all just wanted to watch the show and enjoy ourselves. The fireworks were lit off of a helipad attached to the building and were pretty spectacular. They definitely competed with some of the best shows I've seen on the 4th of July in the USA. The end of the fireworks signaled a traffic jam from hell, and I had no clue how the bikes were all going to make it out of there without any organization. One by one, they started disappearing as hundreds of bikes flowed around us like the ocean. Within ten minutes, they were all gone. 
This was towards the end when we could actually move a little bit. 

After the show, we were pretty tired from a long day so we just went back to the hostel. We only left our room to grab some waters up the street, when I was approached very suddenly by an extremely happy and very drunk Vietnamese man holding a full glass of beer. He handed me this glass, and used his hands to create drinking motion. Confused as to whether I was being scammed or handed a glass of poison because I'm an American, I decided to just take a small sip and hand it back to him. Not satisfied, he handed it right back to me making the same motion. He wanted me to finish it. So I did the only polite thing I could do and chugged the entire thing, assuming I would have to pay for it. He made the motion of ordering more beers and pointed at two open seats at the table next to him. He was with an older Vietnamese fellow that also did not speak any English. Under their table was a mountain of empty beer bottles. These guys were probably celebrating the anniversary of the end of the war, but why, as tourists, they invited us to sit with them in particular we will never know.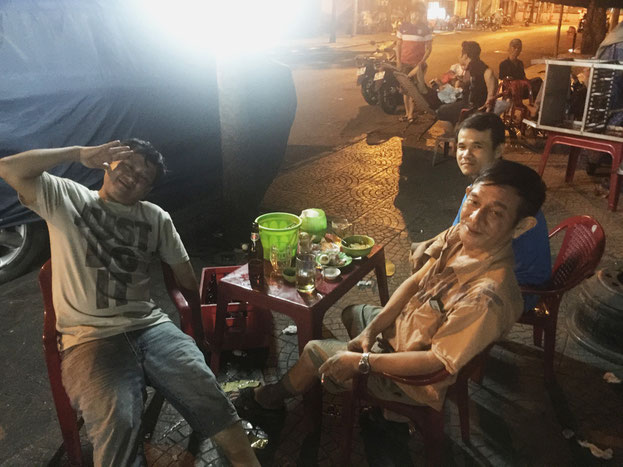 We tried to communicate with them as best as we could with our hands while they spooned us some horribly gross looking and foul smelling pink meat that look a lot like wet cat food from a can. I was still alive from the beer I chugged, so I only took a small bite of whatever the soft pink Play-Doh-like meat was. The Vietnamese man, who's name was Lam, took an entire double spoonful to the face. It turns out that was my first time having Spam. It was just as bad as everyone says it is, but went a little better with some salt and some pepper.
By this time we had finished a couple of the beers they ordered us and they kept coming. We were making each other laugh as best as we could with weird hand gestures and silly dances. Comedy is my favorite universal language besides music. What I found out was not a universal language that night was taste. The Spam was bearable, but next came the mystery egg. Lam cracked an egg with a spoon, sucked out the juice (egg juice??), and proceeded to spoon out whatever was inside and shove it down his mouth with a big smile. They both laughed at our confusion. Then Lam took a small spoonful of the insides and put it up to my mouth. It definitely wasn't a normal egg. It was yellow with black specks, hard, and smelled rather questionable. I'm deathly allergic to many things, so I was too skeptical to eat something that mysterious in a foreign country. Marika had to take one for the team. She said it wasn't bad and kind of tasted like mushrooms. 
Not speaking the same language, we had to get a little creative to make each other laugh.
Four or five beers later, we were skill wondering if we were being scammed or not, but we were having too much fun to care. Then Lam started writing an extremely long number on a piece of paper. "Oh shit" we thought. It's the bill! We were being scammed! He handed us the piece of paper and it turned out to be his phone number! He made the thumb up/pinky down hand gesture up to his ear signaling for us to give him a call sometime. Then he sweetly pointed at Marika's camera bag around her shoulder, pointed to the motorbikes in the street, snatched at the air, and waved his finger. He was warning us about the bikers that steal purses and bags from people on the street. We thanked him and tried to hand him some money as we said goodbye to pay for our drinks and food. He said no and pointed to his friend that worked at the outside drink stand. His friend waved his hand and shook his head as well. The drinks were on them! It was the opposite of a scam. We weren't sure if it was rude or not to hand them money anyway so we thought it was best to accept their offer and thank them a million times. 
We started the two-block walk back to our hostel laughing about how all we wanted earlier was water and then we ended up in that situation. Suddenly a motorbike with its lights off and two men riding on it approached slowly out of nowhere. The man on the back snagged Marika's camera bag as she screamed. I chased them as fast as I could down the street but they were gone within a few steps. I went from one of the best travel highs I've ever had to the most pissed off I've ever been. I felt like I failed to protect her. She surprisingly handled the situation very well. Luckily, she uploaded all her pictures from the trip the night before!  
Fast-forward three days and it is evening time in Dalat, Vietnam. After another long day of exploring, our plan was only to grab a couple beers so we could drink them back in the hotel and jam on guitar and ukulele. The moment we stepped out of our hotel room, a Vietnamese family being tourists in their own country were all eating dinner and invited us to sit down with them. Never one to say no while traveling, I sat down and was immediately handed a glass of beer and a plate of food. Most of them could speak English, and we all toasted over and over and proceeded to sing songs from our home countries, as we had Vietnamese, American (me), Swedish (Marika), and South Korea (another tourist that joined us) at the same table. 
I never said all of us were good singers.
As the bottle of tequila slowly disappeared out came the mystery eggs again. The entire family started handing them out, cracked open the tops, sucked out the juice, and spooned the insides into their mouths. Then I was handed one. I was definitely disappointed I didn't eat it last time. How allergic could I be to an egg? But I wanted to know what it was, so I spooned the entire chunk out of its shell. The result was a squishy and partially developed embryo of what appeared to be a baby duck: feathers, bill, and everything. Marika almost threw up when she realized she ate a duck fetus three days before. But I didn't want to be rude, so I shoved the entire thing in my mouth and washed it down with a huge sip of beer. The crowd cheered and handed me another one, so I did the same thing. The duck egg is called balut. It originated in the Philippines and is common is Southeast Asian countries. Why it is popular I will never know. It didn't really taste that bad, but it's literally a little dead baby duck. That definitely wouldn't fly in America.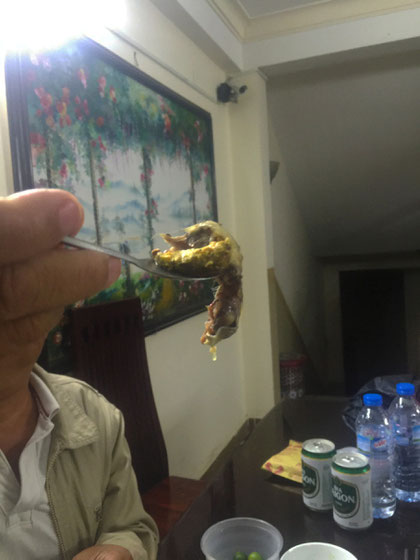 We were left with a sour taste in our mouths the first time we encountered the duck eggs because Marika's camera got stolen. This time the night ended differently and reaffirmed our love for Vietnam. The street our hotel was on was lined with Karaoke bars. Dalat isn't famous for karaoke, but I just couldn't imagine a street in the world with more karaoke bars. The entire Vietnamese family and Lee, the South Korean tourist, all went out to sing songs at karaoke with us for the next couple hours. We sang songs with no inhibition like everyone there was our biggest fan.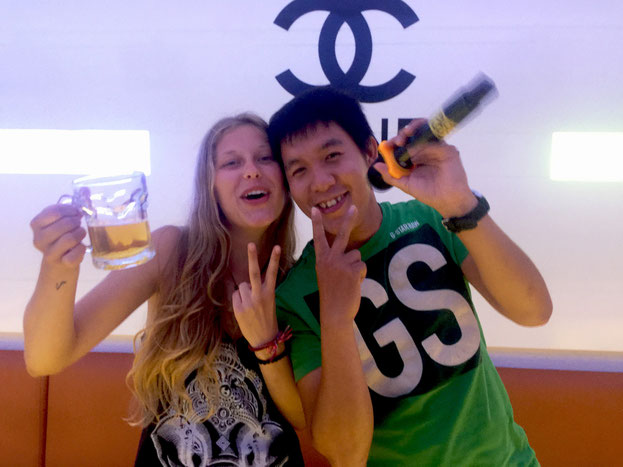 Those two nights randomly connected by the ducky fetuses ended up being two of the greatest nights of my travel career. The thing is, you can't put them on an itinerary or go tell someone else to do them. They are personal stories that no one else has. That is why, when traveling, having no plan is the best plan.