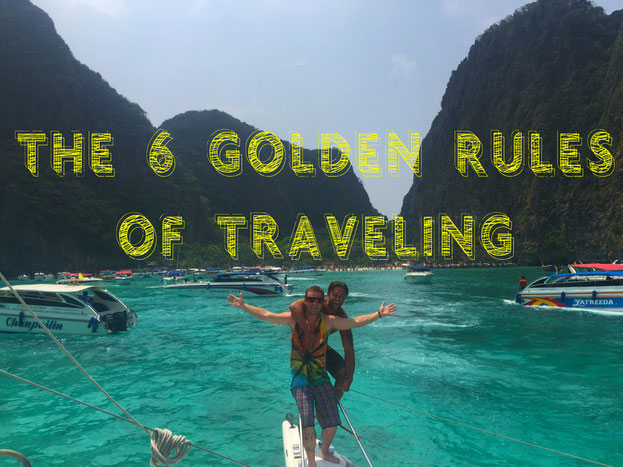 I've been to dozens of countries, and I've made a lot of mistakes along the way. From little ones like paying too much for plane tickets to big ones like taking organized bus tours from country to country instead of backpacking solo. I've learned that my trips always seem the best in hindsight, and they could have always been better. These are the rules I live by to ensure that I will have the least amount of regrets and that I get the most out of my trips. 
Rule #1: Buy a one-way ticket 
I can't stress this rule enough. The last thing you want is to have to say no to the new group of friends you met in Italy that invited you on a road trip in their vans because you have to fly home soon. There are going to be so many opportunities when you are out there that you just don't know of until you get there. Having to go home at the peak of a trip is like taking your date back to your apartment and falling asleep while she watches Netflix in the other room. Plus the knowledge of having to go home soon is always going to be hanging over your head and will stress you out. This will prevent you from fully living in the moment, keep you locked closely to the city where you fly home from, and stop you from traveling around with other people that you may have just made best friends with. I bought a one-way ticket and ended up quadrupling the amount of time I was supposed to backpack Asia. I ended up crossing off extra items on my bucket list, meeting a girl, spending a month with her in Sweden, and effectively going around the world. Had I went home when I was supposed to, I probably would have been working and dreaming about doing exactly that. 
Rule #2: Cut all obligations back home
You can't have a one-way ticket with a bunch of obligations at home. These include jobs, rent, and relationships. If your job won't let you travel but it is your dream to do so, odds are you will be happier living your dream than not living your dream. It's really that simple. Worrying about not finding a job when you get back is useless since you don't know that for sure. Just have a good plan to find one before you return.
Sublet your apartment with craigslist or Airbnb to cover the cost of rent. You might even make money while doing this. If your landlord doesn't allow that, it might be best to move out instead of losing money for nothing while you are abroad.
Relationships are much trickier. If your significant other can't travel with you, it will be very hard to fully embrace the freedom of traveling. You will be constantly looking for the best Wifi to make a Skype call, worried about what they are up to, and unable to have any form of exciting romance with someone from a foreign country. But many people can make this work. I only recommend ending a relationship before a very long trip if it is a bad relationship in the first place.
Rule #3: Just say yes
You can never fully plan a trip because opportunities are endless while traveling. Unforeseen adventure will pop up out of nowhere. The thing is we are always worried. It might be dangerous, it might be expensive, etc. My biggest fear while traveling is having regrets. What if I didn't get in that Australian guy's BMW in the Czeck Republic and take a road trip around Eastern Europe? Would I have such a close friend down under now? One that I ended up visiting in Melbourne and went on another road trip with? Probably not.
Cost is an issue for most people too. I won't even get into money saving tips while traveling, there are a million articles on that. You saved money to travel, so travel right. Thinking about diving with great white sharks in Australia but it costs $400? Will you ever get a chance to do that again? Odds are no. If you have the money and want to do something while abroad, say yes. Life is about the memories you make and not the stuff that you own. More than likely you would end up slowly spending that money on dinner, entertainment, and items you don't necessarily need at home. Plus, you can always make more money.
Rule #4: Plan your trip around a festival 
Traveling is when a backpacker is at his very best. A festival is when a local is at their very best. Both are being social, free of work, and careless about the outcome of the day. A good festival is when locals and tourists can unite and celebrate life together. From Mardi Gras in New Orleans to The Running Of The Bulls in Spain, no trip is complete until you have seen the local's true colors and embraced their traditions no matter how strange they may be. There are endless festivals around the world to add to your trip (but my favorite are the messy ones). There is something about being around hundreds of people that don't speak your language as well as tourists like you while drinking, dancing, and having an excuse to celebrate something (anything!) that makes you feel powerfully connected to all of mankind.  
Rule #5: Do the weird stuff
Let's face it. Other countries are weird. People eat live sago worms in Borneo like it's nothing or drink snake blood in Vietnam. In any culture that is different than yours, you will find people doing completely normal things to them that are so foreign to you that you are left absolutely baffled. Even our happy neighbors up north in Canada do some weird stuff (they eat poutine, which french fries covered in gravy and cheese curds). Embracing it is not only one of the best ways to get out of your comfort zone, but to also make connections with the locals. You will both laugh at the fact that you have such strange differences. Getting out of your comfort zone also helps prepare you to handle situations you would normally avoid or fear in every day life. 
Rule #6: Meet the locals
Hanging out and drinking at a hostel bar with a bunch of backpackers from around the world might be one of the greatest things in life, but you will learn so much about the country you are in and feel so connected to the people that live in it if you simply talk to them. I've seen so many travelers actually go out of their way to avoid the locals or treat them poorly. I can't tell you how much I learned about Cambodia by simply asking my tuk tuk driver a few questions. Not only that, we became friends, went to dinner, kept in touch, and I now plan on attending his wedding someday. How many people do you know that can say they have a place to stay for free with a friend in Pnom Penh?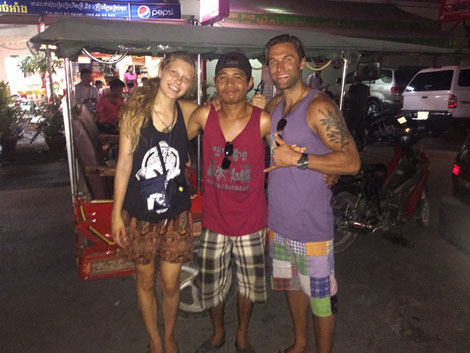 Our amazing tuk tuk driver Van