It took weeks of island exploring in Indonesia to find the "goldilocks" island. Lembongan has everything you want: beautiful beaches, cool locals, amazing food, cheap everything, great bars, and it isn't too hectic or slow. It is a 30-minute ferry ride from Bali (if you take the speed boat) and is only 8 square kilometers in size. Here are 6 reasons you might want to consider spending most of your time on this island when you're in Indonesia:    
1. Best bang for your buck - In all my years of traveling, I have never seen 7 US dollars go so far. We got our own separate private beach bungalows for $5 each, which included private bathrooms, air conditioning, and porches in a beautiful garden. Scooters to ride around the island are only $6. Most unbelievably, the half-day snorkeling adventure we took was only $7. This included being picked up in a private boat, snorkeling in some of the most beautiful and vibrant reefs in the world, and manta rays! The rays were everywhere and were as big as two of my arm spans. Their slow presence was awe inspiring and humbling. To book this trip, ask pretty much any beach bungalow/resort to hook you up. 
2. Shitty WiFi - Well, most of the WiFi in Indonesia is pretty shitty. But this island saves power by blacking out four a few hours every night. Why is this a good thing?? Because this is an honorary Golden Rule Of Traveling for me: get off your phone and go explore! Not having access to WiFi forces you to get off Facebook and go meet people. After all, that is the best part of traveling isn't it??
3. Two islands in one - Lembongan is actually two islands connected by a gorgeous yellow bridge. The bridge is so narrow you can only cross with one motorbike at a time in either direction. So you have to be a little patient and careful, but going from one island to another on your scooter on a little rickety bridge is truly exhilarating.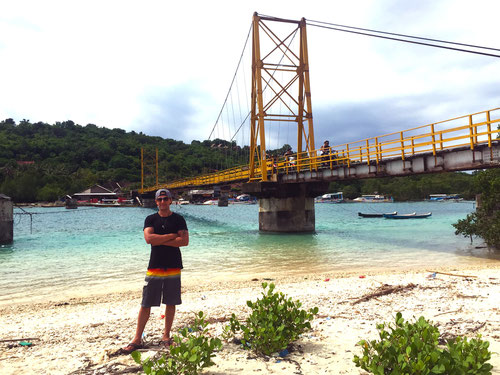 4. Cliff diving - I found the water on Lembongan to be a lot more clean and blue than in Bali, making it the perfect water to jump into from a 60 foot cliff! If you are into adventure sports while traveling that you don't have to be an expert at like climbing, jumping from a cliff will give you that adrenaline high you are looking for. Just be careful! People have gotten hurt, and diving is not allowed when the waves below are too harsh.
Left: Making friends at the ledge of the 60 foot cliff jump. Right: The crystal clear blue water you land in.
5. More relaxing than Bali, but you can still party - I found the South of Bali (Kuta and Sanur) to be a clusterfuck of pushy shopkeepers grabbing my arm and pulling me into their stores, and desperate masseuses grabbing my other arm trying to drag me into a scammy "relaxation" parlor. The Gili Islands were fantastic, but Air and Meno were a little too slow paced, while Gili Trawangan was a bit too much of a party island. Lembongan has the same awesome shops that Bali has without the annoying shopkeepers. You can get a dirt cheap massage in peace from nice locals. You can relax on secluded beaches and sleeping on the island is peaceful unlike Kuta. But that doesn't mean you can't party! There are tons of reggae bars and beach bars. Most are actually empty, so you need to ask around to find out which particular bar the party is at that night. Usually there is something going on every night. 
6. Food with a view - We were eating like kings on this island. Many restaurants are cliffside overlooking gorgeous fishing boats calmly floating in the water. The food was so delicious and cheap we were even eating at hotels and weren't breaking our budget. My favorite restaurant was Mamma Mia at the South of the Island. Not only did this crab dinner cost under $10, the waiters let us play their guitars, and even got out some hand drums and jammed with us. They also claim to have the best coffee on Lembongan, and I can't say I found anything better.