We were bombarded with howling tuk tuk drivers before the bus doors even opened as we arrived in Phnom Penh. It was 5 am and we just concluded an 8-hour bumpy and sleepless bus ride where we had to survive on Pringles as the rest stop food looked like it would have made those Asian toilets a lot more complicated. We knew the drill: grab our bags and run away from these scammy and desperate cabbies so we can find someone trustworthy to ride with. Ignoring all of them and downright having to push a few hollering drivers out of the way, we heard a gentle "Hur mår du?" There stood a short Cambodian man around 28 years old dressed almost exactly like me: a local beer tank-top, shorts, sandals, and a hat. He won us over by speaking with Marika in Swedish and not being pushy like the others. His name was Van.

Van dropped us off at our hostel and we agreed to let him drive us around after we took a nap. I could not wait to hit the sheets when I got out of the shower, but I knew that wasn't going to happen when I heard Marika scream. "Bedbugs!" Aw fuck. I ran out of the bathroom in my towel and there it was: a big juicy one crawling on the pillow I was just lusting after. Bedbugs can't be ignored while traveling. They have nasty bites, lay thousands of eggs in your clothes, and are almost impossible to get rid of without setting all your stuff on fire.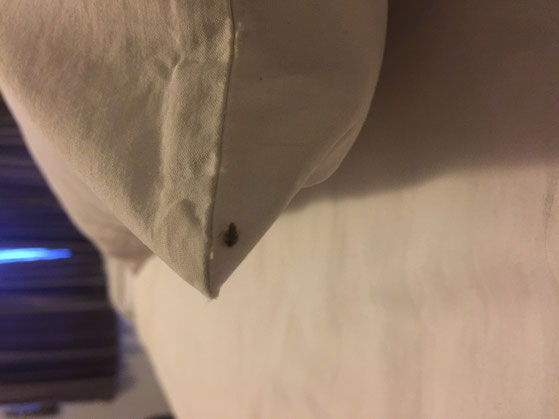 If you see bedbugs like this one in your hostel, leave!
We switched to another room and I helped Marika inspect every crack in the wall with detective like accuracy. At this point, I was so tired I didn't really care if my blankets were made out of bed bugs. I finally laid down on my back on the soft bed when she found another one crawling towards me. We should have left the hostel entirely, but exhaustion forced us to get a third room, throw all our crap in the bathroom in case there were bedbugs, and go to sleep. As we were about fully pass out, the nervous hostel owner interrupted us with two free bottles of water as an apology. How nice. 

Van picked us up at 1 pm and the first stop was the killing fields. Along the way, he asked us if we wanted to fire AK-47s at the shooting range near by, or if we had the money, blow up a cow with a rocket launcher (only $300 USD!). I'm against guns and definitely wasn't into killing an animal if I couldn't eat it (that's just animal cruelty), but I sure wasn't morally opposed to watching the videos of him and his friends shooting the cow on his cell phone. There's the cow, explosion, gone. I'm definitely not in America.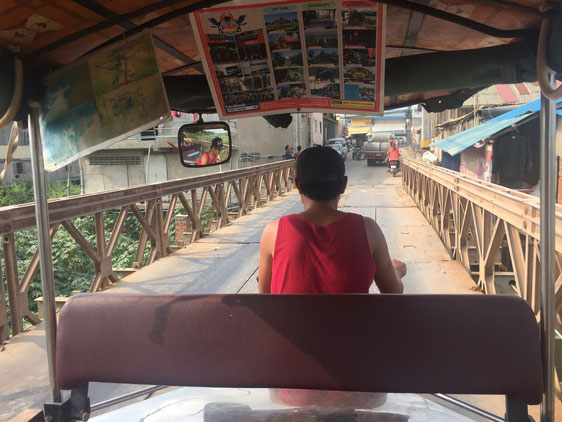 Van driving us in his tuk tuk. In the upper left you can see the ad for the shooting range. 
I don't consider myself a super macho guy. I don't cry a lot, but the killing fields broke down every wall I had. I've been to Auschwitz in Poland and I found the killing fields in Phnom Penh far more emotionally disturbing, probably because the tragedy was so recent. Every Cambodian to this day is connected it to somehow, whether they lost a family member or by being constantly surrounded by those that did. The killing fields are a number of sites in Cambodia where millions of people were imprisoned, killed, and buried in mass graves by the Khmer Rouge regime headed by the communist dictator Pol Pot from 1975 to 1979. If you are not careful, you may find yourself accidentally standing on actual human bones or pieces of clothing half buried in the ground. I completely lost it when I saw the killing tree, where the Khmer Rouge would beat newborn babies to death in front of their mothers and throw their bodies into a pit.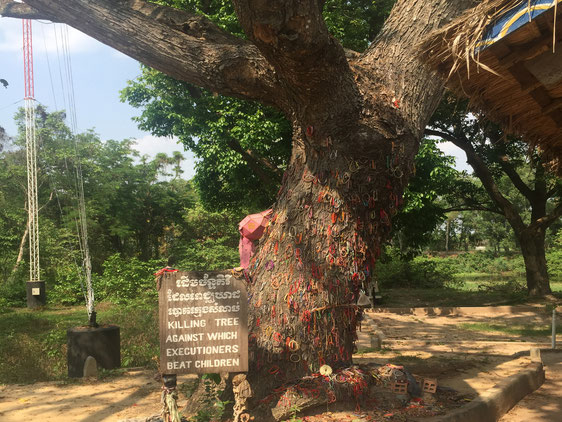 After a couple of hours in total silence exploring the killing fields, we met up with Van who was waiting for us with a band of other tuk tuk drivers. "Ready to go shoot AK-47s?" one of his friends asked. I couldn't really think of a worse time or place to make that offer. I never wanted to see another gun again after going through that. 
From the killing fields Van drove us to another another happy place known as the Tuol Sleng Genocide Museum, which is inside an actual prison that used to be a school during the Khmer Rouge regime. Outside the prison, Van started telling us the story of how he met his girlfriend. He said it was love at first sight. He would see her walking to work everyday and eventually started following her and asking her out. She said no every day until one day he was following her on the freeway when she got into an accident. He took her to the hospital and after that she agreed to go out with him. He now works all day as a tuk tuk driver and makes about $20 a day, $15 of which he gives her. He says this is pretty normal in Cambodia and wouldn't stop repeating "I don't know why I love her so much" with the starriest smile on his face. Though his story would be called stalking in America, it was beautiful in it's own way, and it really helped to have a dash of love thrown in between these horrible places we were visiting that day.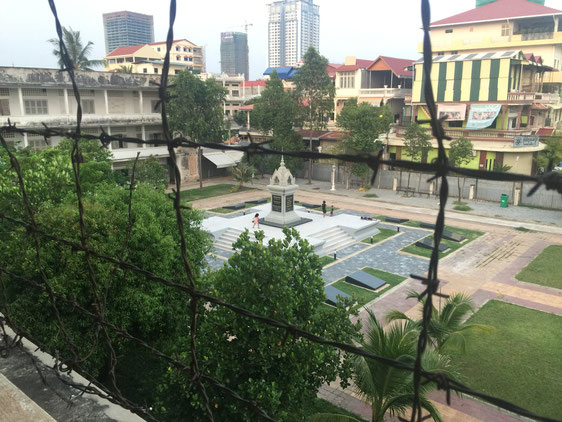 We spent a few hours exploring the prison/museum. We were pretty much emotionality drained at this point. We saw tiny prison cells with metal bed frames used to electrocute prisoners that still had bloodstains underneath them, but we were all out of tears to shed. We only cried again when we looked down through the rusty barbed wire fence to see children playing around a war memorial monument. Whether they had any idea what the monument represented we will never know. All we know is seeing those kids play in a place that was once hell on earth represented how much progress they have made as a country since the regime, and offered a glance of hope for the future. 
We ended up staying at the prison for over 4 hours and it was now dark outside. The clock said the prison closed two hours ago. As we walked downstairs to exit, a gate was closed at the end of the stairs and we were locked in! Officially now prisoners in one of the worst prisons in history, we tried not to panic. I thought about how we might actually have to sleep in that haunted place. I've slept in some horrible places on my trips but that would take the cake. Luckily, Van came to our rescue with a guard that let us out. The guard happened to be a buddy of his and Van asked him to let us stay until we were ready to leave. We were stunned by their hospitality. People would lose their jobs over that in America. 
Later that night at dinner I had an allergic reaction to a Khmer style noodle dish. If you are allergic to peanuts and travel SE Asia, places like Thailand are actually super safe but Cambodia seems to use lots of peanut oils and sauces. Luckily I was aware of this and ate very slowly, so the reaction wasn't too bad. After such a heavy day, a trip to the hospital would have been the last thing I needed.
We decided to just grab beers and try to enjoy the new city for the rest of the night. The second I heard "Suspicious Minds" being sung by a Cambodian male and female acoustic duo, I knew that was the bar for us. We ordered a couple rounds and jammed to the tunes, but something was off. Looking around all we saw were white men in their 50's and 60's and extremely cute and young Cambodian women on their laps and giving them massages. Before we realized we were at a brothel, an Australian man in his 70's and his beautiful purchased wife in her 30's joined us at our table. He was high spirited and free in every way. His "wife" was shy and uncomfortable. It is always best to learn about a country and culture with nonjudgmental curiosity. We kept asking questions and we learned this was actually a pretty normal thing in Cambodia. Older men want to spice their lives up after failed marriages and raising kids, and young women get the benefit of having every financial need taken care of in a country where most people make only a few dollars a day. I wondered if his wife was actually happy with her decision or ashamed. I know he was absolutely ecstatic.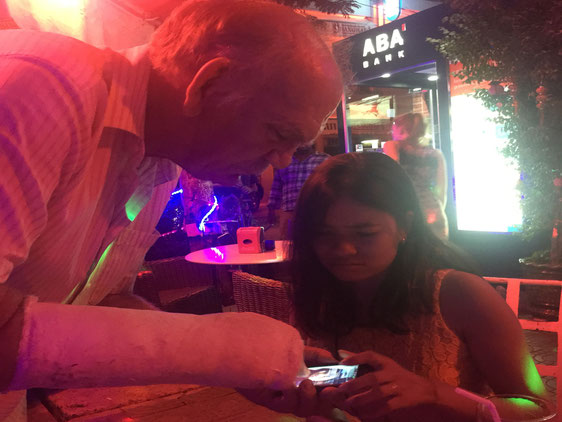 Maybe he purchased his wife so she can show him how to use modern technology.
We spent the rest of the night eating pizza and watching the old men feel good about themselves while their young wives or wives for the night pretended to laugh at their jokes. We couldn't wait to have a real night's sleep. We got back to our private room at our hostel at around 3 am only to be greeted by some unwelcome guests. That's right, as we were about to turn out the lights, more bedbugs! We packed our stuff and the hostel owner awkwardly opened the gate to let us out. There was a hotel that was two blocks up from us, but these were not ordinary streets. They were a carnival of terror. With all our stuff on our backs, we walked through row after row of hookers, dangerous looking junkies staring at us, people literally grabbing us, a sea of drunken tourists, and a midget sitting in the middle of the road cackling at us. It was like the scene in Total Recall when Arnold first gets to Mars. 
We miraculously made it to the new hotel with no new scars or STD's. The hotel smelled like smoke and room doors were constantly opening and closing. The walk to our room revealed countless Caucasian tourists and their Asian prostitutes. It was a hooker hotel. We set our stuff down, took showers, decided that a hooker hotel was better than bed bugs, and turned out the lights.