Most travelers visiting Croatia make it a point to check out Plitvice Lakes. And for good reason! This former #1 spot on my bucket list has probably the most gorgeous turquoise water you will ever see as countless waterfalls pour into it from every direction. When I first saw pictures, I had a hard time believing it was a real place on Earth. But there is another place called Krka National Park that gives the Plitvice Lakes a run for their money. Krka isn't really on most backpacker's radar, in fact, even some really popular travel bloggers don't know about it until they get to Croatia. Both have their advantages, but which one should you choose? 
Left: Plitvice Lakes National Park. Right: Krka National Park.
Size: Lake Plitvice takes the cake on sheer size. It is over 296 square kilometers compared to Krka National Park's modest 109 square kilometers. You can spend about 9 hours walking the wooden paths of Plitvice whereas you can see most of Krka in about 2.5 hours. 
Crowds: Lake Krka wins this category. Plitvice can be extremely crowded, and on those narrow wooden walkways, too many people in your way can prevent you from going at your own pace. It's extremely hard to get a good picture of some of the waterfalls without a stranger making an appearance. The below picture was the best I could take after about 5 minutes of waiting. Krka is much less crowded, however, it is has become a lot more popular recently so I would go as soon as you can. In 2011, there were only 683,739 visitors. By August of 2015, there were already 702,000! Lake Plitvice currently gets over 1.1 million visitors per year.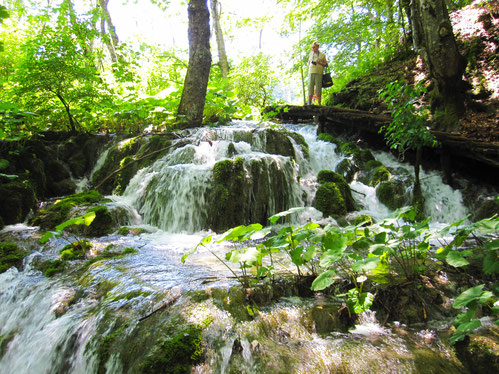 The mesmerizing beauty of Plitvice is often interrupted by the many tourists.

Beauty: Though Krka National Park is one of the most beautiful places I have ever seen, Lake Plitvice is so gorgeous it's not even fair. Plitvice Lakes have countless waterfalls, sunken tree logs, and different colors of water to take pictures of. The view from the top was the most breathtaking sites I had ever witnessed. Krka is mainly famous for that one fantastic picture of the multiple waterfalls surrounded by high forest. After visiting Plitvice first, it was hard to continue taking out my camera for more waterfall shots at Krka. However, you should definitely bring a waterproof camera to Krka.
The sights at Plitvice are a bit more diverse such as this sunken tree (left) whereas Krka is mainly gorgeous waterfalls (right).
Activities: You can get in the water at Krka National Park! This is something you can't do at Plitvice Lakes in order to protect the environment. I'm all for that, but that mainly makes Plitvice a great place for walking around and taking pictures. At Krka, you can fully get under some of the waterfalls and let them rain on you. This is one of the most beautiful places in the world you will ever swim, hands down. Some of the locals were even cliff jumping off the waterfalls which looked extremely dangerous. My friend Stefan snuck over the chain to make the leap himself. The locals chased him but couldn't stop him from jumping. Luckily, he lived to tell the tale. 
Entrance fee: At the time of writing, Plitvice Lakes National Park costs around $26 to enter (180 kuna). Lake Krka is about $16 (110 kuna) during the busy season from June to September. Since you want to swim, that is the best time to go.
Distance from main towns: Krka National Park is closer at 77 km from Zadar whereas Lake Plitvice National Park is 119 km from Zadar. Buses and day trips are super easy to find and book for both. However, if you are going to Krka, I highly recommend staying in the town of Šibenik which is only 13 km away. It is quiet, coastal, and the Cathedral of St. James is on the UNESCO World Heritage list. There are hostels and hotels, but it is easiest and cheapest to rent an apartment from the locals if you are in a group. Your place might even come with a border collie like ours did!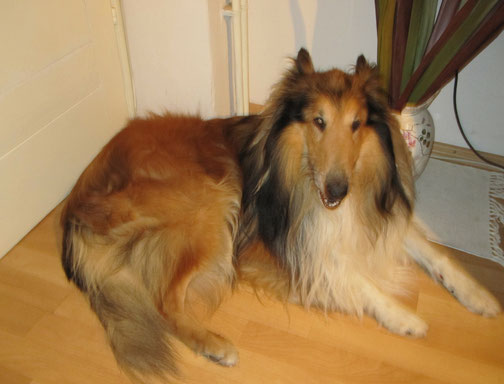 His name was Ronnie Dodgie.
Conclusion: If you just want to take pictures and walk around, Plitvice Lakes National Park wins hands down. If you are pressed for time and need a quick day trip, Krka is a perfect substitute. Which one is better just depends on your needs. The big question for me is, which one would I go back to? The answer is clear for me: Krka National Park. If you could jump into that crystal clear water at Plitvice, I wouldn't even go back to Krka. But you can't, and when I think of happy moments in my life, I usually think of the time I was swimming at Krka. Just look at those faces!