I don't think my friends would necessarily describe me as a shy guy. But what they might not know, however, is that I seem to be outgoing because I've always had them to lean on. I'm perfectly comfortable at parties and meeting new people when my friends are there because it's easy to be me when I have such great people bringing out the best in me. When it comes to meeting new people on my own it becomes a whole different story. As a seasoned traveler, I occasionally have to have that social crutch kicked out when I face the scariest challenge of all: solo travel. 
Just the thought of traveling solo brings out so many fears: What if I don't make any friends? Is it safe? I'm awkward around people I don't know. Will I be bored? Won't I get lonely?
The first time I traveled solo I contemplated coming home before I even began. I had to make it through one whole week until I could meet up with my friend Lee, who was moving to Bangkok to teach English to kids. I remember getting off the ferryboat in Koh Tao, Thailand around 8pm without having a hostel booked. I was in a new place and inherently lost, it was dark, and everything I owned was on my back. The confident "Fuck it, let's just get there and figure things out" demeanor I generally have while traveling with friends was quickly fading away. First thing's first: find a place to stay. 
Walking up the tiny busy streets of Koh Tao I passed a bar with couches full of travelers on the outside, and two tourists on another couch inside. One was plucking a guitar and the other was singing along. I looked up and saw the sign: Koh Tao Loft Hostel. A place to stay! Even if it wasn't a hostel, I was definitely going to have a beer there and talk to those musicians, for we had something in common by default. I happened to be traveling with a guitar. Had I been with my travel partner from before, it's possible we would have walked on by and looked for a more quiet place to stay. But I was afraid of being bored and not making any friends, and music had my back
Forcing myself to be social and hoping they would accept me as a fellow musician, we made conversation for a few minutes before I booked a room. I took a long needed shower and came back out to the bar. My new musical friends from Germany, Fabi and Stephen, were nowhere to be seen. Nearly starving, it was time for my first meal at a restaurant alone. I walked up the skinny streets and it wasn't long before I made eye contact with Fabi and Stephen eating bowls of soup at a Thai restaurant. "Would I be bothering them if I asked to join them?" I thought. But I figured it would be more awkward if I didn't say hi, so I walked up to them and asked if I could join. They were both the quiet types, but I did not get any "go away" vibes. We spent the rest of the night drinking beers and looking up chords to songs that we decided to jam on together, and playing them for the all female staff of the now empty hostel bar. We went out a bit late that night and all the bars were closed. We ended up skinny dipping in a hotel pool and jumping off the diving board naked multiple times with a group of British girls we just met. In the pool is where I met Manny, who later became one of my closest travel friends. Manny joined the skinny dipping session right away, throwing off his board shorts proudly showing off his massive hog to the horror of all the English girls.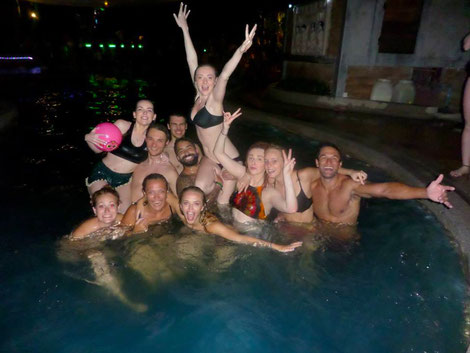 The next day I joined my new German friends on a trip to Koh Nang Yuan, which is three islands joined by an incredible sand bridge which you will recognize as the location of the main picture on tommygoround. At this point, I had already forgotten I was traveling "alone." When nighttime came, were determined to make it out before the bars closed. Everyone grabbed a bag of Changs and we hopped into the back of a truck to take us, Manny, and a couple other new friends to the beach. On our way, Fabi hit the opening chords to "Good Riddance" by Green Day and we all sang along as the truck careened dangerously into the night. I don't mean to sound cheesy here, but it was seriously the time of my fucking life.
You don't need to sound good to have a blast!
As we drunkenly crawled off the truck we found out the bars were closed again! Not to be deterred, we made our way to the beach with our two guitars inviting every single person we saw along the way. We started jamming and singing the songs that we learned together the previous night, and before we knew it, there was a crowd of dozens of people around us. The party came to us and we were the entertainment. In any other situation this would have terrified me. I like to play and all, but I'm by no means a pro and absolutely not good enough to put on a real show. The thought of me sucking at something I'm actually passionate about in front of a crowd petrifies me. Accidentally group texting nude pictures to my entire extended family would be less embarrassing for me. But there was something about the energy, the people, the setting, and maybe a little bit of the whiskey buzz that made me not care. For the first time ever, I was actually playing for a big crowd of people I didn't know. My friends back home would not have believed this.
The next day I erased my hangover with the wind in my face on my motorbike. I decided to take a solo mission to every beach I could see on the island. With my map in hand, I headed towards the mysterious Shark Bay. On the way I got lost, and by got lost I mean I accidentally stumbled upon an incredible hike to the highest viewpoint on the island. It was there I met Heather, a Canadian Yoga teacher that kindly snapped a few pictures of me and hopped on the back of my bike to help me find Shark Bay.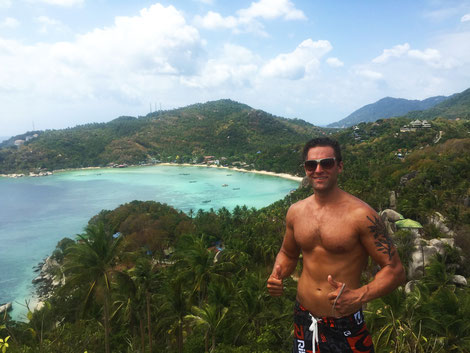 We parked the bike and had to hike down sharp rocks, jump off a small cliff, and swim the rest of the way to Shark Bay. After about 15 minutes of swimming around and us wondering if there were actually any sharks there, I took a final dive with all of my breath in my lungs and almost choked! We were suddenly surrounded by reef sharks! A few of them were a good 5 feet long and looked like they meant business. We swam after as many as we could until we ran right into a sea turtle that was the size of a Go Kart, though I like to remember it being the size of a VW Bug. This thing was HUGE! We freaked out and swam behind it until it disappeared into the abyss. Heather is the only one that can verify this actually happened, so as she swam away I yelled my Facebook information to her. All the divers I talked to on Koh Tao said they've never even seen a turtle, even though Koh Tao translates to turtle island (it is actually named this because of its shape). From that day forward, I never travel without a GoPro.
From the water I swam to the shore and there happened to be Manny with the English girls. We did some yoga on the beach and rode our bikes to High Bar. This is a Koh Tao secret folks. Go to High Bar and watch the best sunset of your life, eat a Nasi Goreng Pattaya, and order a little something green from the bar (and I'm not talking about a Chang beer, but order that too).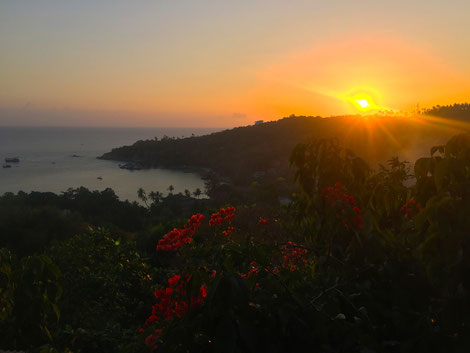 The next day I met up with Marika and we began our journey together, which we continue to this day. The solo week in Koh Tao was short, but involved some of the most memorable times of all my travels. All my fears washed into confidence and I ended up experiencing things I feel weird telling people because it sounds like I'm lying! Maybe I wasn't afraid of performing for a big crowd because no one had any expectations of me and no one knew a thing about my past. This will be true for any solo traveller. Not everyone will have the same experience as me, and solo travel isn't for everyone, but if you are coming up with excuses not to travel because you can't find the right partner I highly recommend just taking the plunge yourself. You might end up waiting forever for that perfect travel partner.