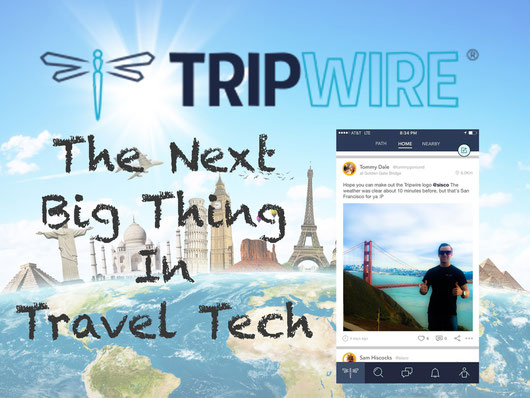 Tripwire - The Next Big Thing In Travel Tech
We have entered a new age of traveling just over the past few years. Suddenly, technology is as important to a traveler as a safe place to sleep is. Wi-Fi is now accessible almost everywhere, and travelers can now broadcast their lives digitally. Because of this, there has been an explosion of digital nomads, viral Instagram accounts, travel bloggers, and GoPros on selfie sticks. I would like to introduce to you what I hope is the next big thing in travel technology: Tripwire. 
Tripwire is an up and coming smartphone travel app to be released on February 26th. It has a multitude of features that are specific to travelers looking for things to do locally in each new city as well as connect with each other to share tips, ask questions, post secrets, and even meet up. 
Connect With Other Travelers On The Home Screen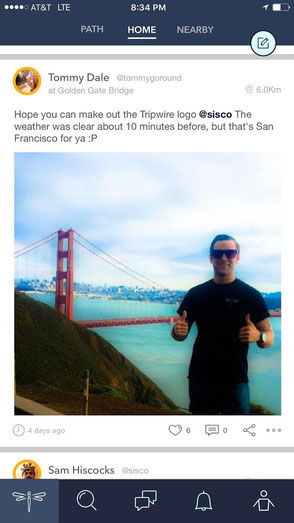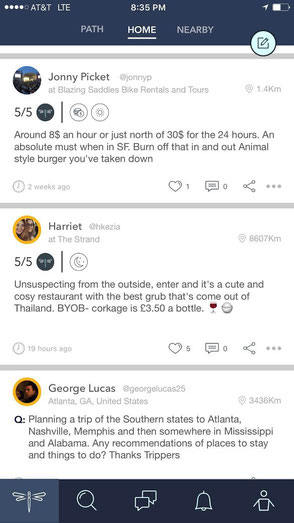 Tripwire has a home screen similar to Facebook's news feed, except the posted content will be localized to your destination and posted by other travelers near you. Folks that have been there before can also add their take on a destination retroactively. 
On the left is my home screen after I posted a picture. I can add some advice, ask a question, or answer questions from other trippers. Trippers can also like my content and comment on it as well. Users have their own unique profiles and can @ mention people in posts as well as send direct messages.
On the right I have scrolled down my home screen a bit further to find people giving tips and asking questions about destinations. Right now the app is in beta so locations vary greatly geographically. However, once more users catch on, your home feed will be specific to where you are in the world. It will be a plethora of crowdsourced secrets you would never know about unless you had months to spend in one place. All the best things to do, see, eat, etc. at your fingertips. 
Find Cool Stuff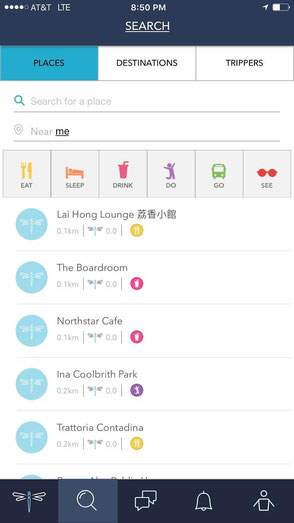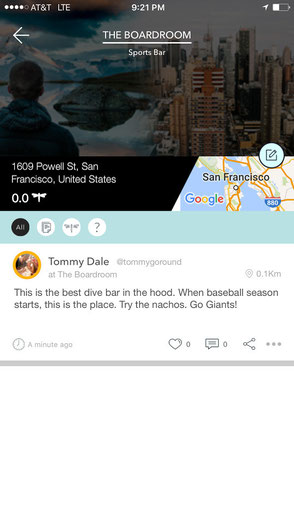 On the left is the search menu. You can find anything from the best bar in town to a place to sleep off the hangover. I see my favorite local bar The Boardroom right there, so I can click on it and give it a nice review. I can even add pictures. The next time someone visits my neighborhood and wants to find a nice place to have a beer and watch the game, they will know The Boardroom rocks. 
Now this might seem like a combination of Instagram, Yelp, and even Quora, but what makes Tripwire great is that this is all specifically by travelers for travelers. We aren't just interested in a good meal, we want to try the stuff no one knows about. We are interested in off the beaten path non-touristy hiking trails, photography spots, accommodation, etc. If we end up doing something touristy, we want tips on how to do it cheaply with the least amount of hassle. 
Ask Questions, Get Answers In Real Time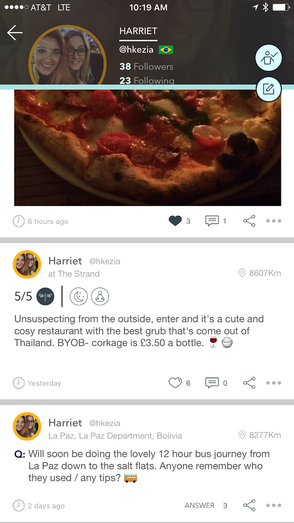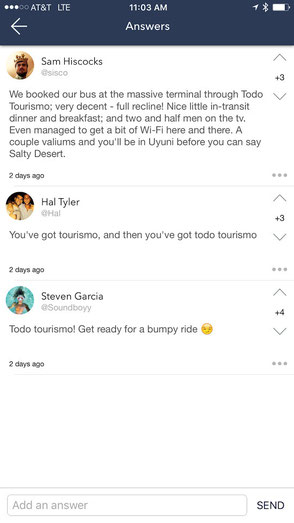 On the left Harriet from Brazil asks a question about how to get from La Paz to the salt flats in Belize. Instead of spending hours Googling and getting mixed answers from 6 years ago or taking a gamble on a random bus company, her question will appear on the home screen of other trippers close to her. On the right, she has already received 3 replies, all telling her that Todo Tourismo is the way to go with full reclining seats and WiFi, though it's a bit bumpy! 
Cross Paths And Meet Up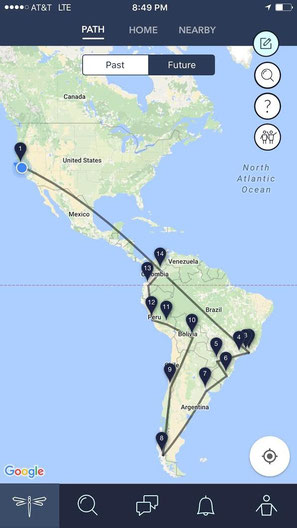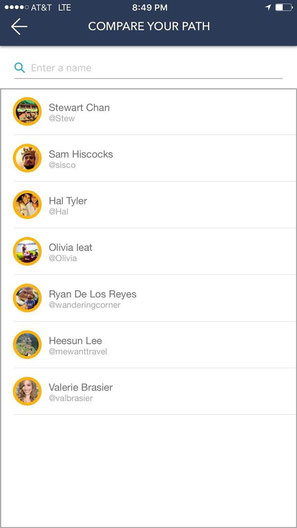 On the left is my path for my next trip. I can compare my path to other trippers and even be notified if I will cross paths with someone else. If I am looking for a partner to hitchhike to Chile with, I can see if anyone I know is close or I can simply just ask the question so it shows up on the news feed of people around me. This is a fantastic way to find others around you that share your interests and are looking to do the same activities as you, and can even be a good way to stay safe. I bet it won't be long until we see the first married couple that met on Tripwire. 
Fun For Those Just Dreaming Of Traveling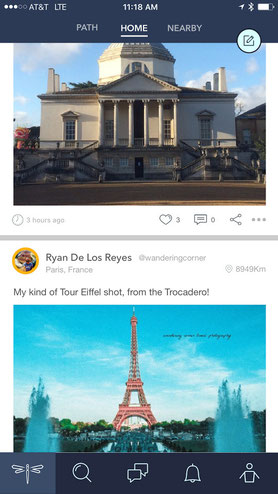 Tripwire will also be fun for those that aren't currently on a trip, as scrolling through the home feed can be like vicariously following someone else around the world. I would like to thank Tripwire right here for making me one of those people. There is a gold ring around my profile picture, which means I am a Tripwire Ambassador! My posts will be featured globally no matter where a user is instead of just locally. This is huge news for tommygoround.com as the exposure will be priceless. Other travel bloggers that they hand select will also be able to post their best tips and secrets globally, allowing you direct access to advice from the pros!
Download It In The App Store On February 26th!
I could not be more impressed with the beta version of Tripwire and I am excited for the full launch on February 26! These guys have been pouring their blood, sweat, and tears into this app and I love working with them. Cheers to Tripwire and I hope that you will all find it as useful as your passport on future trips!