There is no such thing as too much time in Rio de Janeiro. With it's famous beaches, street parties, monuments, and beautiful and friendly people, you will never run out of things to do. However, Rio is expensive compared to most most popular backpacking locations, so we decided to see everything in one week. Though the city is so incredible it's almost impossible to leave, we kicked Rio's ass and checked everything off our list with money to spare. Let this be your guide to one week in Rio de Janeiro on a budget. Here is what we did, how, and what Rio is really like.
The Beaches
Barra da Tijuca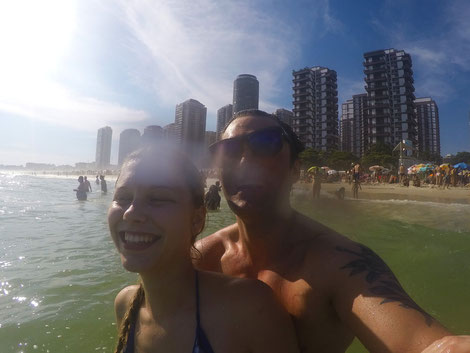 This beach isn't on the usual tourist's radar, but we made friends with the first Brazilian we met at the Rio airport and he showed us his favorite local beach. Pedro said "Copacabana is just famous" and that Barra da Tijuca is the real place you want to go to. If you are looking for something less touristy then he was definitely right. We were surrounded by locals and got to try some Brazilian treats sold by vendors on the beach such as mate tea mixed with lemonade and this popsicle-like treat called sacolé  aka condoms:
Left: sacolé before. Right: sacolé after.
Copacabana
Copacabana was so packed during Carnaval that you could barely see any sand. However, the next day after Carnaval there was plenty of space on the beach (though far worse weather). I liked Copacabana because of the live music, drinks, and cheap tourist shops on the street. However, the street behind Copacabana was all fancy hotels and restaurants, reminding you that you were definitely in a higher end touristy area (boring!). A much better backdrop was found at Ipanema. 
Ipanema
Ipanema connects to Copacabana through a large cliff jutting out into the water where most people sit to watch the sunset. Off in the distance, you can see a colorful favela on a hill. With a slightly smaller crowd than Copacabana and a far better background, I much prefer Ipanema.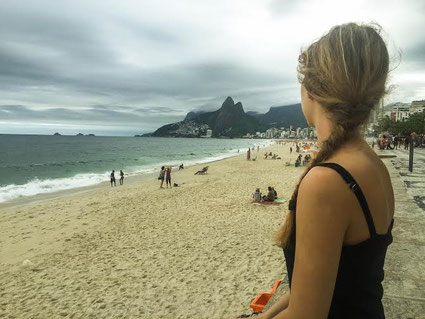 Food
Brazil is nowhere near as cheap as Asia (about $4-6 USD for a meal in Brazil vs $1-2 USD in Vietnam for example) but you can eat delicious local food for semi-cheap if done right. For a quick bite, street food is always around. Try their spectacular tapiocas which are like crepes made with tapioca flour and sold from street carts everywhere. Sweet ones and savory ones are both fantastic. To save money AND eat a full meal of local dishes, go to any of their famous buffets aka "por kilos". The food in Brazil seems to be unhealthy across the board, but at least there is SOME green stuff at these spots.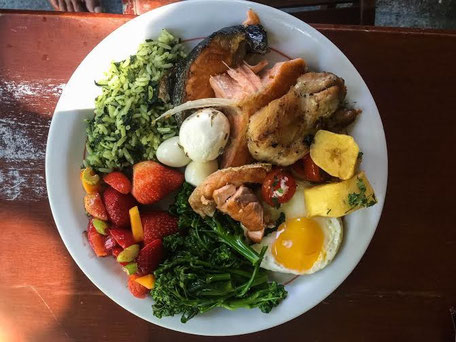 My attempt at eating healthy in Brazil.
Where To Stay
Rio is absolutely MASSIVE! We're talking 1,255 square km with over 12 million people. If you stay outside of the tourist areas, you will find yourself spending too many extra hours just taking buses to metros and spending too much money on cabs. The best and safest area to stay we found was Botofogo, which has lively nightlife and close enough proximity to all the activities mentioned in this post. 
Accommodation
Even hostels in Rio are a bit pricey especially during Carnaval so book EARLY! We found Airbnb and Couchsurfing to be good cheap alternatives, but please be warned, do research on where their homes are! We ended up booking and cancelling a couple places in what we later found out were dangerous areas. We were lucky enough to have some local Brazilians laugh at us and tell us not to go there, and they actually let us stay with them instead! Also, make sure you get the EXACT addresses of each Airbnb/Couchsurfer (in Brazil, the street number is at the end of the street name). Two times we dealt with the issue of not having a street number and being stuck trying to find WiFi (a total nightmare while carrying a heavy backpack, guitar, and tent in 100+ degree weather). Apparently, Airbnb and Couchsurfing do not make it a requirement to list an exact address, so talk to your hosts first.
Carnaval
Rio is ground zero for Carnaval celebrations for good reason. The two main things you can do for the week the entire country shuts down to party are street festivals/parades/parties and the Sambadromo parades. I would recommend doing both if you can, though the Sambadromo can be expensive. Tickets for the Sambadromo can be bought early on rio-carnival.net but you have to pick them up at a hotel and pay a $35 USD "administration fee". Instead, we went to the Sambadromo on Sunday (the biggest night of Carnaval) and hoped to scalp a ticket. I used my broken Spanish to talk to a guy with his shirt off selling "billetes" (tickets). He waved down a taxi and spoke to the driver in Portuguese. The driver handed us two tickets and the scam alarm bells went off in our heads immediately. Clearly these two had some type of mutual business going on. But it was our only chance to get cheaper tickets so we went for it anyway. Luckily, the tickets worked!  
The Sambadromo showcased 4 different samba schools for a total of 6 hours. If you are thinking of going to the Sambadromo, GO! You will never be surrounded by more happy drunken locals in any country in your life and the floats are impossibly massive and incredible.
If you just want to see the floats but don't want to go to the long parade, you can see the dancers working on them during the days of each parade as they are all lined up right outside the Sambadromo: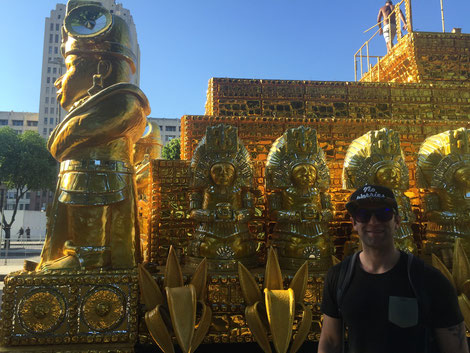 The Sambadromo parade lasted until 3am and we were completely exhausted from the combination of standing the entire time and the sweaty Brazilian Summer heat. The weather is relentless in the Summer in Rio, and even cold showers multiple times a day don't really make you feel completely clean. Bed and rest sounded nice after the parade, except outside the Sambadromo was the largest street party in the entire world and it was impossible to avoid. The party didn't really seem to have any tourists, but it seemed safe enough (aside from seeing one guy pull out a knife on somebody during a fight).
Sugarloaf Mountain and The Christ Statue (Corcovado)
This one seemed to confuse a lot of tourists. Sugarloaf Mountain is a spectacular view of Rio and is amazing during the day or night. You ride a gondola up to two different amazing lookout points. The Cristo Redentor statue is far in the background here.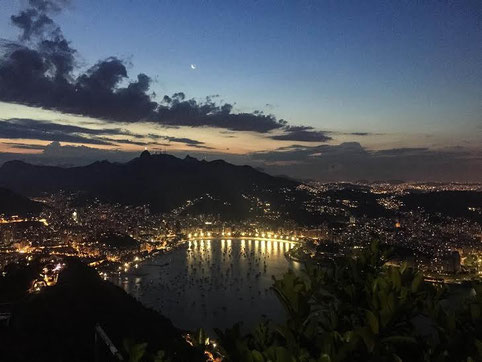 Getting to the actual Christ statue is not really self-explanatory and they don't make it easy for tourists. To see it up close, take the metro to Largo do Machado and buy tickets outside the large church right by the metro station ($71BR). A van will take you up from there. The views of Rio from here are also unreal. Though it's almost impossible to take a picture without a thousand other tourists in it at Corcovado, both Sugarloaf and Corcovado are absolute must sees, very cheap, and you can spend a couple hours at each spot.
Left: Classic tattoo picture at Corcovado. Right: All the tourists behind our arms.
Parque Jardim Botanico
This is always in the top ten things to do in Rio. I found it a little boring as I'm not too into "nature" walks where the paths are all put together and man made, though it was only 9BR for a full day and you do get to see tiny monkeys!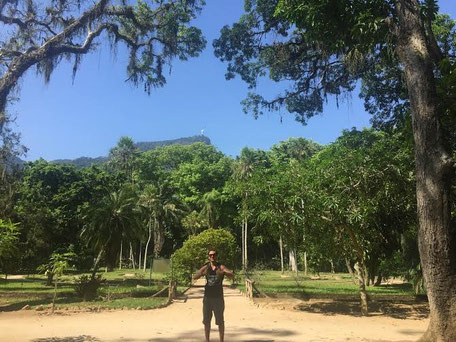 Free things to do! 
Escadaria Selaron (Lapa Steps) - Each of the 100 steps contains tiles contributed by artists from around the world and the stairs were made famous in the Snoop Dogg and Pharell video Beautiful. Get off at the Cinelandia metro station and walk from there.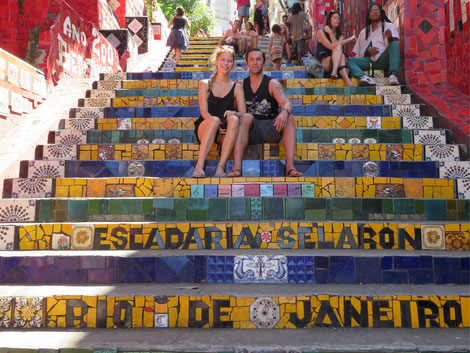 Maracanã - A guided tour in English of the famous soccer stadium is absolutely free! You can even get on the actual field and take pictures. Getting there couldn't be easier. Just take the metro to Maracanã station and you're there.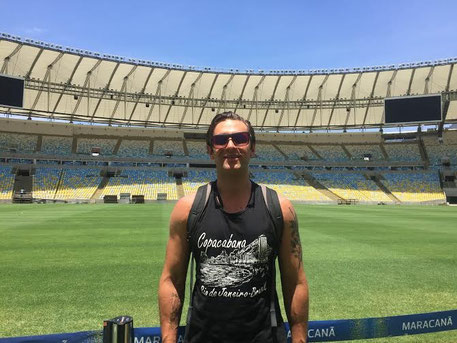 Pedra do Sal - We magically found out about this little secret from a local. Pedra do Sal is a huge street party on Fridays with an amazing vibe. Enjoy a caipirihna while you and mainly locals crowd around a long table full of musicians singing samba songs and switching instruments/musicians periodically. The welcoming crowd sings every word of each song. You can take a bus or fairly cheap taxi from Lapa.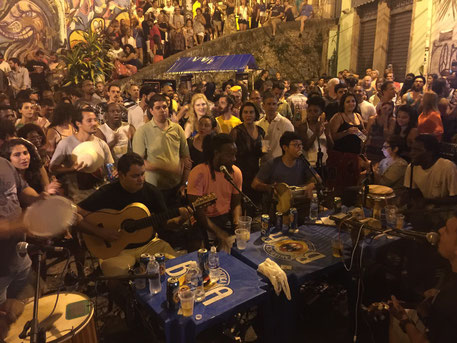 Tijuca National Park - The largest urban jungle in the entire world should be on any hiker's itinerary. It is completely free and there are endless trails full of wildlife (we didn't see any, we mainly saw Brazilian families having picnics). If you need to get away from the hustle and bustle of the busy city of Rio, this is a great choice.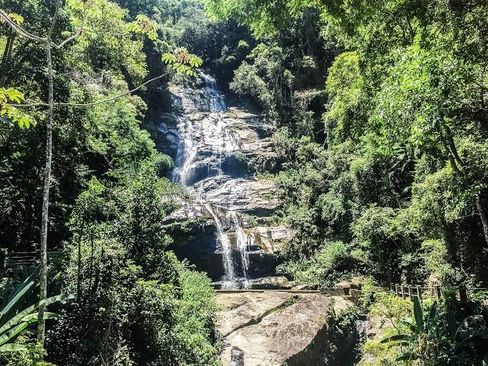 Favelas - Favelas are the colorful houses on hills outside of every main part of the city. They are known to be brutally dangerous and full of "extreme poverty". They all say tourists are not supposed to go there. But of course we went anyway! Our Airbnb host, Tom, teaches music to kids in a favela in Santa Teresa. He send a message to us the day before we were supposed to stay saying that the military police killed an innocent person and that it might not be a good idea to sleep there. We decided not to stay, but we still took a cab to watch him and the kids rehearse for a couple hours. In the favela, we found people going about their daily lives: washing cars, selling waters, and hanging out in shops or on the street. Tom was an English guy that willingly moved into this "slum", and it was very inspiring to watch him shape the lives of these children. He is, in my opinion, the true definition of a hero. I wouldn't recommend going to a favela unless you are a brave and experienced traveler and talk to locals first about where exactly you are going. However, exploring a favela can give you a new perspective on life in Rio. For "extreme poverty", you wouldn't expect to see too many smiles on faces or helpful people, but we found many. To see Tom's music school or just to donate money to him, click here.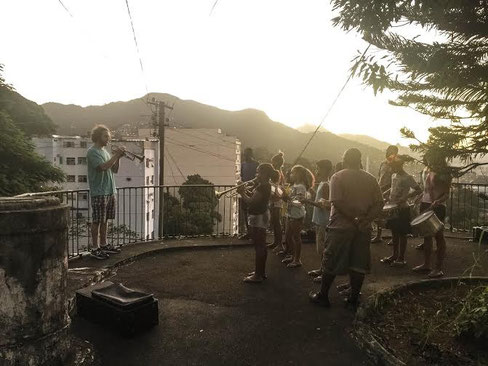 Tom teaching music to kids during sunset at Santa Teresa Favela in Rio.