We didn't really know much about Angra Dos Reis before we got on the bus from Rio. All we knew is that it was supposed to be a cool little beach town and a perfect place to relax for a couple days before the madness of São Paulo, the third largest city in the world. We were excited to have our first experience with Couchsurfing.com by staying with a local legend that had over 200 positive reviews and a Facebook profile loaded with pictures of him and his guests partying, tanning on the beach, and breaking bread. We hadn't even heard of Angra Dos Reis before meeting him online. Little did we know sending him a message 2 months before would lead to one of the riskiest and greatest experiences of the history of all our travels.  
The first thing we did when we got off the 4 hour scenic bus ride from Rio was to try to find WiFi since we only just realized we didn't have our host Arundo's actual address. 
Tommy: After the classic free WiFi hunt searching every available network on my phone to see if Arundo had messaged me his address, I gave in and went to the tourist information office inside the bus station. A skinny bearded employee from Rio named Mateuss told me in English that the closest WiFi available was at the mall which was a 20 minute walk away in 100 degree weather with all our bags. I was frustrated but pretty used to this situation as a traveler so I turned to walk away and relay the bad news to Marika. Before I could even do a full 180, Mateuss commented on the guitars and drums tattooed on my left arm. We ended up talking for a few minutes about Red Hot Chili Peppers, Sublime, California, and his upcoming trip to Florida. His eyes lit up as we spoke and he whispered: "You need WiFi? Follow me." We went outside to hide from his boss while he gave me the passcode.
The message we got from Arundo was as cryptic as it was cocky: "To get here, take the bus 208. Talk to the driver, say CAMPO DE FUTEBOL DE AREIA DA AVENIDA SAO JOSE. PEOPLE KNOW ME HERE!" 
Tommy: We were extremely annoyed at this point because we were tired and sweaty and still didn't have Arundo's actual address. I went to talk to Mateuss again about where this Campo De Futebol was and if it was just a soccer field or not. All three employees in his office started laughing at me because the area was in the most dangerous favela in town, and we would look so out of place as tourists there that we would almost definitely be robbed. I asked Mateuss if he knew of any cheap hotels for the night. His reply to me was either an obvious lie so he could eventually scam or rob us or it was an impossibly large coincidence. He said a friend of his had visited California and loved it and told him that if Mateuss ever met anyone from California that needed a place to stay, then they are welcome to stay with him so he can practice English. Also, this friend happens to own an açaí shop! Mateuss said that he would call this guy and that he can take us there right now. 
Marika: When Tommy came to me with weirder and weirder updates on the situation I knew that either something awesome or horrible was going to happen. But I trust Tommy and when he said his guts tell him that this is a good idea then it is to me an invitation to an adventure, plus I have never tried açaí before so it all sounded great to me.
We got into Mateuss's car and drove the acai shop. He said we can leave all our bags in the trunk while we went to the shop, and we tried to smoothly say we weren't ready to leave everything we have in a random guy's car. Mateuss went up to the counter of açaí shop called Açaí King to speak with the smiling and friendly looking man working behind it named Felipe. They talked in Portuguese for a while and we stood there trying to look as nice and polite as we could in hopes that Felipe would agree to host us for the night. It paid off immediately as Mateuss told us that Feilpe said yes and that he also offered us some free açaí smoothies. Seeing that it was a real açaí shop and that our smoothies were delicious, at this point we felt comfortable enough to leave our bags with Felipe in the back of the shop and grab a beer at a nearby bar while we waited for him to get off work to check out his apartment.
At around 8:30 pm, Felipe helped us load our heavy bags into the back of his white van. He drove us to his house as we all tried as hard as we could to communicate. Felipe seemed to be able to speak a little English. We could understand him but he was a bit shy and mainly had trouble understanding us. At his house, we met his father who didn't speak a word of English at all and then we all headed outside where Felipe said his new apartment was so he could show it to us. 
Felipe took the lead up the steep dirt path with his dad following closely behind us. We could hear chickens bawking and cackling around us but could  barely see them in the darkness of the night. We made it to a concrete floor with no walls and large pillars all around. There were what looked like dirty broken refrigerators, large pieces of ply wood, and various construction equipment littered all around. We headed up one set of stairs, and then another, and then another with all the floors looking similar and still no walls, just empty space. This house was apparently in it's early stages of construction. Not exactly what you would expect when someone invites you to stay in their new house. 
Marika: Warning bells started to ring as we walked an almost invisible path. What are we doing? I have one random guy in front of me and one behind leading me up through a halfway constructed building as my options to escape from a possible rape or assault are decreasing with every step up the stairs. I couldn't tell why neither Tommy nor I weren't freaking out and for some reason the biggest thought in my head was to focus on not slipping in my flipflops with all my luggage. It would be such a hassle to walk up all these stairs again... 
Tommy: The stairs didn't seem to end. We must have walked up four floors and neither Felipe nor his dad said anything to ease our discomfort. I looked back at Marika and she gave me a nervous smile. It was the same nervous smile I recognized when we were served snakes in Vietnam or when a tuk tuk driver got on the freeway in Thailand on the way to an extremely shady ping pong show. That smile always lead to an interesting story so I crossed my fingers and hoped it would be the first time on this trip it would happen again, though all the while I couldn't help but think that they were about to stuff our bodies full of drugs and drive us across some border.  
"No fucking way!" We both said as Felipe opened the door for us at the top of all the stairs. We had entered some type of portal of extravagance.  There were large glass windows, high ceilings, two outdoor showers, an arcade machine with 10,000 games, an indoor BBQ, new floors, ceramic counter tops, and two balconies overlooking Angra Dos Reis. One balcony was East for sunrises and the other faced West for sunsets. This magnificent apartment at the top was fit for a king. It was brand new and literally never been slept in. There was absolutely no furniture and no one had even showered in the bathroom yet! This is where we would be staying for the night.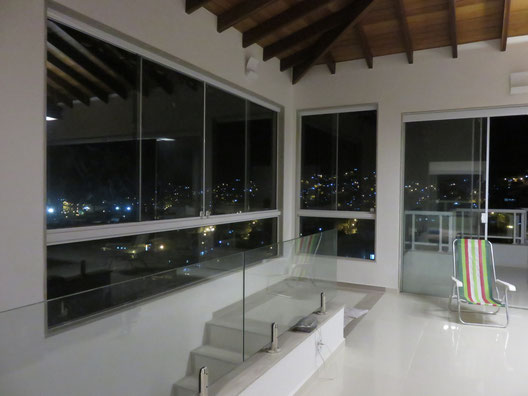 We were still looking around the apartment in shock as Mateuss and their friend Rodrigo arrived. We hugged Mateuss for the undersell of the century and thanked him relentlessly for setting this up. We confirmed what we had already suspected about him: that destiny could not have handed us a greater person. Felipe and Rodrigo left and then quickly came back with burgers and beer for all of us. For the rest of the night we watched rock DVD's, played video games, drank beers on the balcony overlooking Angra until it rained, and talked about our lives, traveling, and Brazilian politics. We were all amazed how much we could relate with each other being from 3 different countries with three different primary languages. Felipe quickly came out of his shell and revealed a soul that you could only wish happiness for forever. Rodrigo, who seemed to be able to understand us speaking English but usually just smiled and laughed, brought his air mattress from home for us to sleep on and pumped it up for us by hand even though we offered over and over again to do it ourselves. Even though we were the ones in distress earlier and were saved by them, Mateuss couldn't stop saying how magical it all was.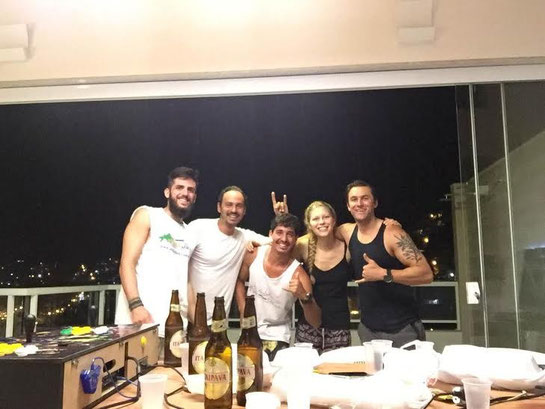 Left to right: Mateuss, Felipe, Rodrigo, Marika, Tommy
The following day we woke up to this unbelievable sunrise and of course we had to use the outdoor balcony showers and take pictures of the amazing view: 
As we walked down to Felipe's father's house below, we realized even more how crazy the walk we did last night was. Imagine going up 4 flights to the unknown top in these pictures, in a totally foreign town on the other side of the world, with two people you don't know at all, in total darkness:
In the morning we were excitedly greeted by Felipe and his father with a fully loaded breakfast laid out on the table. Felipe refused to let us pay for dinner the last night, the smoothies, or even help him clean up breakfast. In fact, his father seemed to get a little agitated when we even attempted to clean anything. All this would continue for our entire stay.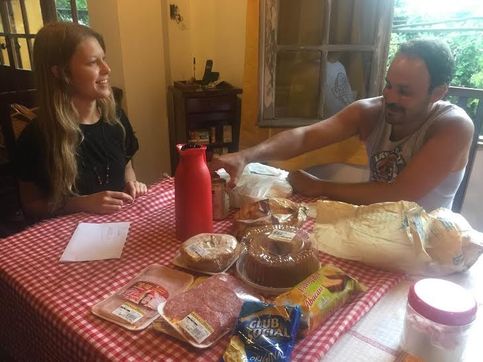 After breakfast, Felipe drove us around Angra and showed us some great beaches and amazing views. We were really impressed that Felipe knew almost everyone that passed by him, cars would honk at him in recognition, and that everyone seemed to love him. Angra really is a great town but apparently most people take the boat to a close by island called Ilha Grande, so we decided to check it out and meet Felipe again two days later. 
After a great time on the beautiful island we once again met up with Felipe at his açaí shop. Our original plan was to stay another night with him and then go to São Paulo the next day, but Felipe surprised us again with his kindness and asked us to stay at his house for 3 more days because he had a bunch of exciting plans for us. We thought about it for a while since we usually don't stay in one place for too long, but it was clear that our hearts were telling us to stay and the following days were absolutely unforgettable. 
Together with Felipe's friend Claudio, who is the richest non-working guy we know with a the warmest heart in the world, we paddle boarded around the amazing islands in Angra where Brazilian TV stars have their homes. We even saw turtles sticking their heads up from the perfectly warm water and then disappearing again. It was the definition of paradise. 
That night we hung out with Rodrigo, Felipe, and Claudio at their friend's bar drinking Duvels and Tommy gave the tiny Brazilian town a taste of his band Afterglow. We joked that Afterglow will tour Angra in 2017 after they blow up there. 
Then we took that buzz to a live reggae show at a beach bar where we met up with Mateuss. Mateuss introduced us to the singer of the band and then we somehow topped our unhealthiest Brazilian meal yet with this steak mixed with french fries and melted cheese. 
Felipe, Claudio, and his family surprised us with a free ride on their boat to the most beautiful beach we had ever seen: Aventureiro. This is mainly a locals only beach and most tourists have to pay around $200 USD for a boat taxi to get there. Felipe actually told us we were going to another beach when we realized we were suddenly on the opposite side of Ilha Grande from our visit before and we were headed towards Aventureiro. What a guy!
Then they surprised us again when they decided Claudio would cook us up some real Brazilian BBQ including chicken hearts at his MTV Cribs-worthy house.
Finally Felipe got us in to a private boat club anniversary party with free food, booze, and live samba  music. There were some pretty cool people there too. We met the Brazilian champion of surfing of 2011. We also met Felipe's cousin Nelson who offered us free jiu-jitsu lessons at his gym on Ilha Grande as well as free scuba diving lessons.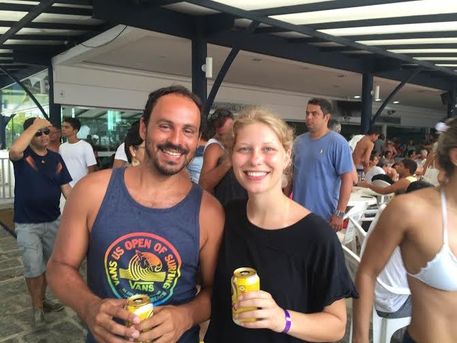 Felipe with Marika wearing his tank top straight from California. 
The beauty of traveling with no plans is that we are open to this kind of adventure at any time. There is no possible way we could have added all of this to our itinerary. The only way we could have an experience like this is by chance, taking a risk, and saying yes to an invitation into the unknown. We now have experienced Angra Dos Reis better than any tour guide could have told us, and we made some lifelong friends. Saying goodbye was the hardest part and I bet we could have stayed permanently if we asked. Our biggest hope is that we can return the favor to our new friends one day when they visit us, and pass on their kindness to other lost travelers.