Hostel Sweet - Puerto Iguazu, Argentina
Date: March, 2016
Rating: 5 Stars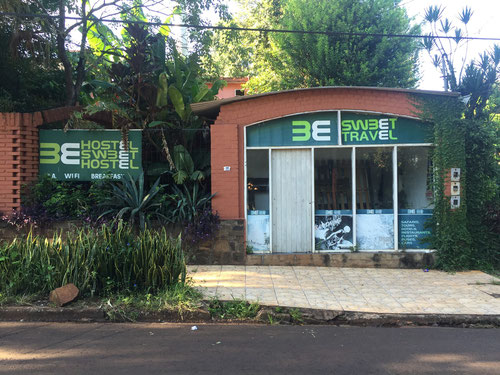 Location - We met a dangerous looking looking man named Carlos outside the Puerto Iguazu bus station that handed us a flyer trying to get us to stay at Hostel Sweet. We were tired from a 20 hour bus ride and 7 hours exploring the largest waterfalls in the world, so we thought why not? We ended up following Carlos down a dark street far away from all the other hostels and touristy restaurants. The idea of us getting jumped excited me because I thought I was finally going to get to use the knife I always have for self-defense purposes. It always seems to just take up space in my bag and it reaffirmed my decision to keep bringing it on all my trips.
WiFi - The unreadable WiFi password taped to a wooden plank by the pool was definitely a huge challenge for me but it was so awesome because I LOVE puzzles! Are those spaces after the first T and N? Maybe just one space? Is that the letter H or three quarters of the letter F and a 1? This game provided at least an hour of entertainment. When I finally guessed the code correctly, the power went out for the rest of our time there which was great because backpackers shouldn't be spending all their time on their phones anyway.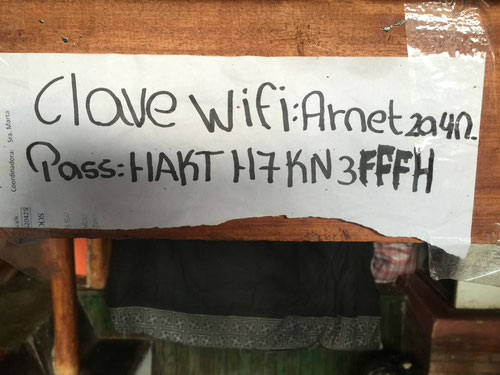 Dorms - A big concern about dorms while traveling for me is bedbugs. Luckily, the dorms here had spiders in just about every corner and above every bed and I'm pretty sure spiders eat the bedbugs. The door to the dorms didn't close at all so I was never disturbed by other guests opening it and slamming it all night like at regular hostels.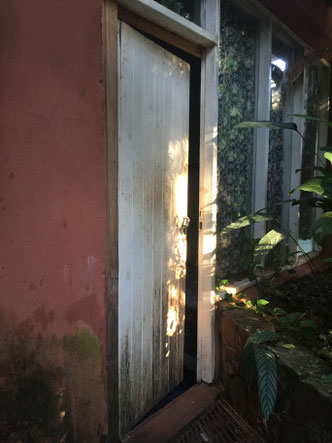 Beds - The boards supporting my top bunk bed were broken in just the right places shaping the mattress like the letter S which was perfect for my debilitating scoliosis!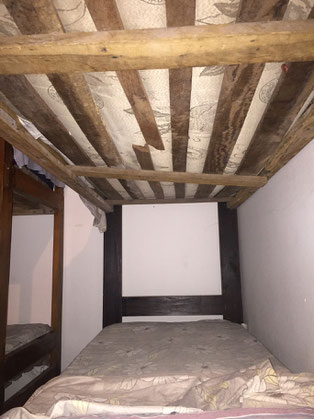 Also, I jumped into the bed after a long day and immediately felt a sharp stabbing pain in my right hip. Wouldn't you know it, there was actually a knife under the mattress cover. What are the odds?! I was actually eating a bagel at the time and needed a utensil to spread the cream cheese.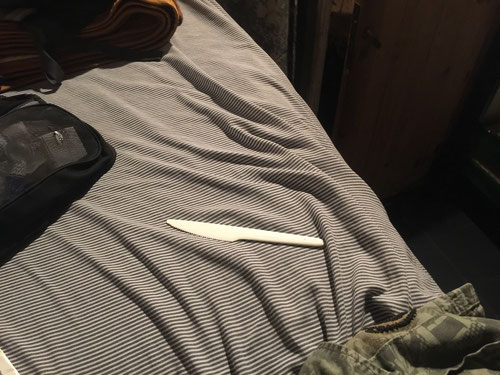 Security - The security guards/receptionists were almost always nowhere to be found, which meant I couldn't leave because Sweet Hostel doesn't even have a front door or gate. This ensured that my bags were extra secure because it was myself that always had to keep an eye on them. Luckily, they did have lockers in a room behind the reception desk. I used the lockers the first night I slept there, and tried to use them the next day but the lady at the front desk refused to let me use them again for some reason. To her chagrin, I bypassed her and opened the door to the locker room myself to access the lockers. Behind this door revealed a tiny flaming hot room with only a furnace inside and a bunch of trash on the ground. The lockers didn't exist and I was lied to, but it was perfect because my computer was in my bag the day before and I needed a new one anyway! 
Breakfast -  The breakfast was only tiny pieces of white bread which was nice because I'm trying to slowly improve my gluten intolerance. There was some yogurt that you were supposed to drink instead of eat with a spoon which was a funny little foreign change. The coffee was just brown colored water but I needed hot water anyway since the showers didn't work. 
Bathrooms - The mysterious holes in the walls and missing tiles let my imagination run wild. I also pretended that the black mold above me on the ceiling was a colonized solar system in a galaxy far way. The bathrooms also taught me a ton about saving money. The toilet paper was so cheap it was actually invisible! That helped a lot since it is so easy to clog foreign toilets since many people don't know that you can't flush paper down them. That actually wasn't a problem here at all because the toilets didn't flush.
Pool - The pool was the best and cleanest part of Hostel Sweet. It was so amazing that it was probably the greatest body of water I had seen in all of Iguazu. This is because it was the only place to wash my hands since none of the sinks at Hostel Sweet functioned at all, and I was almost sure to catch some type of disease by staying there. 
Kitchen - The flyers for the hostel that were handed to us advertised a nice kitchen we could use so we could cook food and save money, but there were signs posted all around the kitchen saying that we weren't allowed to cook for some reason. That may have ended up saving our lives again, since all the dishes were moldy and contained hardened ancient food. Thank you Hostel Sweet!