Last Halloween I wrote an article about tourist attractions that could kill you. In that article I mentioned how 200-300 people a year die on Bolivia's extremely dangerous Death Road. Well, I was recently in La Paz, and seeing as how my 3rd Golden Rule Of Traveling is "just say yes", I decided to ride down the most dangerous road in the world on a mountain bike. The result was I'm still alive since you are reading this article. However, I did in fact almost meet my maker that day, but it did not involve a bike tire dangling carelessly above a 100km cliff. 
Biking Death Road begins with the right tour company. Many places offer almost the exact same transportation and ride, the difference being how new and well maintained their bikes are and how much they take care of you along the way. My friend James survived the journey 2 days before we took the plunge ourselves, and he didn't realize he had a flat tire until he got to the end. His friend Joe mentioned how his ass hurt all throughout the next day since his bike did not have dual shocks. We decided to pay slightly more than James and went with Barracuda because of their newer bikes with dual shocks and their promise to perform maintenance checks along the way.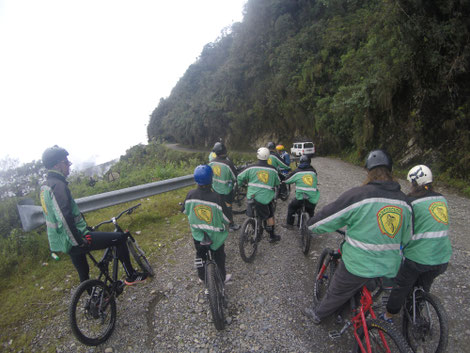 As our transport van slowed down to a stop at the top of the mountain while blasting AC/DC's "Highway To Hell", our guide, Andres, started his warning speech. He told us that the last person to die riding a bike on the road occurred only one week ago. Great. That helped me forget about my friend Reuben's story about a guy in his group flying off the cliff and grabbing on to a tree Wile E. Coyote style. Andres also let us know that cars coming up the road have the right of way, meaning that us bikers going down the mountain have to keep to the left on the side CLOSER TO THE CLIFF EDGE.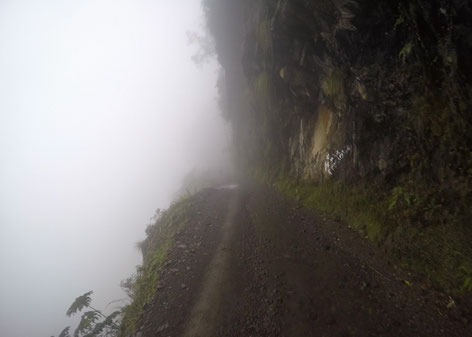 Yup that left side. Where the line is. 
After a few more horror stories to scare us straight into riding like grandmas, we began our descent. At first it was hard to not be distracted by the lush green mountainside and the fact that we appeared to be above the clouds. The muddy roads were slightly wider than your average minivan and littered with "baby heads," or rocks so big that they resemble the head of a baby. My brain was working overtime: don't brake too hard and slide, watch out for other bikers and cars, careful around all the rocks, don't fly off the cliff. 
With the help of frequent stops and pointers from our guide, I was comfortable enough to finally enjoy some scenery. In fact, it seems that the most dangerous part of the Death Road ride is the other bikers. We are talking about some seriously adrenaline pumped over masculine bros with a death wish passing me while literally grunting and screaming "AAAAAAHHHH!" At first I thought someone was injured behind me but he was just letting people know he was biking down Death Road like everybody else. But guys like this were by far the biggest danger. I saw them slide out of control, crash, and take turns far too fast. The biggest threat on this trip was being taken out by one of these idiots. 
If you are in Bolivia and on the fence about doing this, I would suggest going for it. As long as you are careful (and no one crashes into you) this is a pretty safe ride and more fun than scary in retrospect. If you are scared, just know that a couple people in our group completed it and had never even ridden a mountain bike before. It is worth it simply for the feeling of getting wet as you bike through the waterfalls and come out to some of the best views I had seen throughout South America. The best part is that you only pedal for about 20 minutes total, the rest is all downhill action.
After the 4 hour ride we ended up at a hotel for lunch and relaxation at a pool and one of the most satisfying beers of our lives. We survived. It was good not to be in anxiety mode anymore. We made friends with other folks in the group and gathered around a table as we served ourselves some victory soup. Uh oh. After the second spoonful my tongue went numb and my throat started itching. I am very familiar with this feeling. I was having an allergic reaction. I was stupid not for asking first, but apparently this was peanut soup or "sopa de mani" in Spanish, and I could tell this was going to be a bad one. 
I immediately went to the bathroom and laid my already exhausted body on the dirty tiled floor next to the trash can full of used toilet paper while gripping my stomach in pain. My heart was racing fast like the idiot bros down the mountain and my lungs were already very short of breath from the high Andes altitude. I had two options: wait this thing out or stab myself with the Epipen. The Epipen is full of adrenaline and would make my heart pump even faster. I also have no clue how my body would handle it with the altitude. Either way, the nearest hospital was hours away, and we would just have to drive on the DEATH ROAD to get there. Luckily, my body made the decision for me and I started throwing up. Vomiting is usually the worst part of a bad reaction for me so I decided to wait it out. While this was happening, Marika was taking good care of me and the locals at the hotel were checking on me and gave me some allergy medication. 
I remained on the bathroom floor and throwing up for a couple hours until it was time for the van to take us home. I expected to risk my life this day but not like this. In the end, it wasn't the 100km cliffs that nearly got me, it was two spoonfuls of the fucking soup!