Minca, Colombia is a small village of around 800 people about 15km outside of Santa Marta. It is not currently on every tourist's radar that travels through South America, but it will be. Minca rests 650m high in the Sierra Nevada and its gorgeous green mountains currently grow some of the best coffee in the world. But Minca will soon have a new claim to fame. It has two of the most awesome places to stay in the world: Oscar's Place and Casa Elemento.
Oscar's Place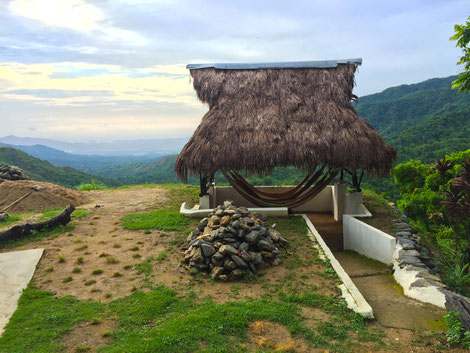 The directions to Oscar's Place are as weird as Oscar the man is himself. Most travelers to his place would agree that he is "the most interesting man in Minca." Always barefoot with a giant grey beard and a freshly rolled joint sticking out of it, you would never guess he spent 30+ years of his life living in Los Angeles, the antithesis of where he now calls home.
Oscar owns dozens of hectares of lush green mountainous forest that stretches as far as the eye can see.  You can sleep in a hammock, dorm, private room, or even a tiny attic like we did.
Oscar got the entire town of Minca to help build his property, even digging out the long and steep trail leading to his place himself. The result is the most relaxing place a backpacker could ever find. You can chill in a pool and watch the sunset while tiny fish nibble at your skin or lay on a hammock with a view most people on their honeymoons wouldn't even get. At night there is nothing to do except listen the frogs compete with the jungle insects over who can create the wildest symphony.
The drinks at Oscar's Place are on the trust system, where you grab one and just write a tick mark next to your name on a list, then you return to your hammock. Oscar isn't really in this to make money; he just wants to share this amazing life he created with other people. Oscar will make you breakfast, but he will have to order you food at night, if he remembers to place your order.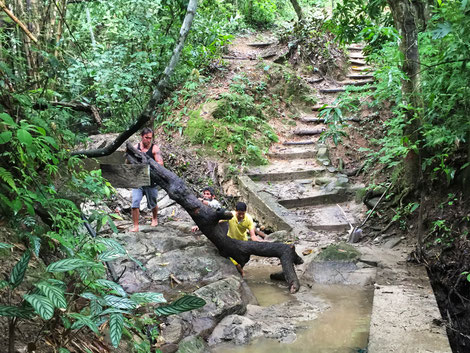 He may also ask you to do some hardcore manual labor.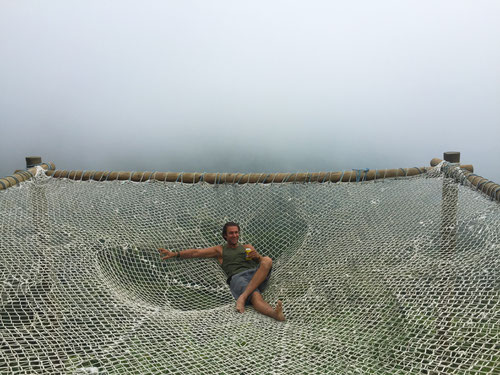 On the far opposite side of town there is Casa Elemento, whose claim to fame is having the largest hammock in the world. Needless to say this place is pretty relaxing too, but getting there is a different story:
Riding on the back of a motorbike while flying around steep cliffs on thin muddy roads is the only way to get there on a budget. Taking a cab is possible, but you will need a 4x4 on days when it rains (most days).
At the Casa there is a hammock lounge area where you can sleep at night, a huge swinging hammock hanging on large chains (pictured below on the right), and of course largest hammock in the world. The giant hammock rests over a steep cliff where you are well above the trees. The views are insane and it's not just a novelty.
Around 1:30pm there is a community lunch where they cook and serve everyone a delicious meal of the day. However, one of my favorite details here was a tree house with a bucket attached to a line that stretches from the top of the tree house to the bar.
Both Oscar's Place and Casa Elemento make the already unique and relaxing town of Minca a must stop if you are looking to have some chill time during the hecticness that is traveling South America. I would suggest staying at Oscar's Place and going to Casa Elemento on a day trip (10,000CP) if you are squeezed for time. If you go, say hi to Oscar for me!