Bali is a much bigger island than one might expect. I remember figuring I could simply walk to all the attractions because you know…it's an island. Wrong! It's turns out if you are sipping on a coconut and going surfing on Kuta Beach and want to check out the incredible Uluwatu Temple on the South of the island, you're going to have to take a sweaty hour long cab ride. So determined to see the monkeys on the cliff over looking the ocean at the temple, my friend Will and I decided to do as the locals do, rent a motorbike and figure it out from there.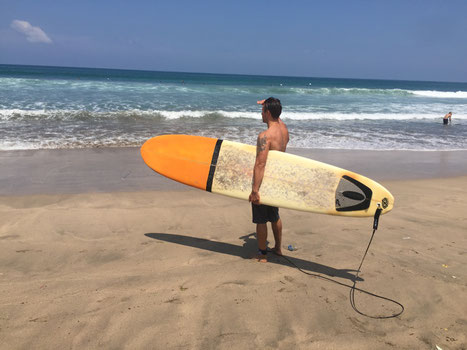 Surfing at Kuta Beach: warm waters, $5 board rental, and great waves.
We rented the bikes right around the beautiful Harper Kuta Hotel. To give you an idea, Google maps tells me that's a confusing 25km drive on the left hand side of the road on Indonesian freeways full of smog, beeping horns, and thousands of other scooters passing us by like schools of fish. Not to mention we couldn't read any of the road signs. As usual, it was a bad idea that makes for a great story.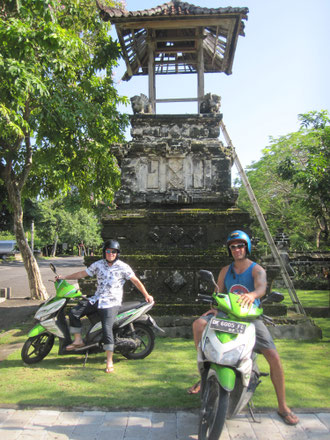 Without the convenience of WiFi or any type of phone service to tell us where to go, we were lost the instant we hit the streets. The best way to figure out where we were going was to simply ask other motorcyclists "Uluwatu?" and they would say something we couldn't understand and make a gesture. We went whichever direction their fingers pointed. 
After about an hour we should have been there, but we hadn't even seen a sign for Uluwatu at all. We ended up taking some kind of off ramp that led to a closed tollbooth area so we couldn't get through. Utterly confused, the police officer that happened to be nearby pointed the opposite direction and brushed us off. "The wrong way??" we asked dumbfounded. He nodded his head. The only way to get back on track was to go the wrong way, on the freeway, in Indonesia. We looked at each other and swore if we survived this we'd head right back to Kuta and have the greatest victory beer imaginable. Determined to see that dream view at Uluwatu, we strapped on our helmets, clenched our jaws, and carefully yet swiftly proceeded to head backwards on the freeway until there was an opening in the long median strip to make it to the other side. If the journey is the destination, then we were there a long time ago.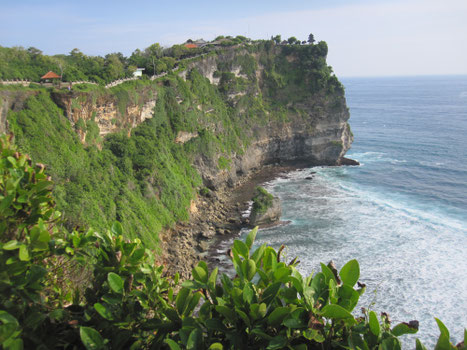 Another hour of being lost and asking kind strangers where to go, we finally made it to Uluwatu. It was as grand and majestic as we had hoped, and words can't do it justice. However, the highlight really was the monkeys. The first time a monkey confidently walks up to you to steal your water bottle, open it with its hands, and take a huge upward swig of it is truly a shocking yet comedic experience.
We were a bit parched, but somehow made it all the way back to Kuta in the dark to drop off the bikes near the Harper Kuta Hotel. We proudly ordered a couple Bintangs, and clinked the bottles together to celebrate our being alive.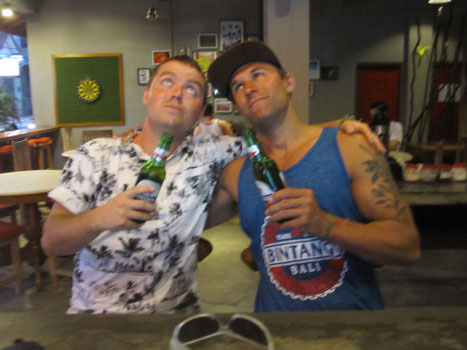 If you are brave enough to make this journey or would rather just relax at the pool of the gorgeous Harper Kuta, check out these Traveloka Hotel deals